SM / MM Simplex/Duplex Fiber Optical Patch Cord

Description:
Fiber Optic Patch cords are ultra reliable components featuring low insertion loss and return loss. They come with your choice of simplex or duplex cable configuration and are made to conform to IEC,Telcordia GR-326-CORE Standard.

Environmental Reliability Test:
The performance of the patch cords has been carefully designed to meet the IEC standards, GR-326-CORE, in the test of optical characteristics, vibration test, thermal cycling, impact resistance, salt spray erosion, thermal aging, humidity resistance and others

Key Features:
Customised colors and length
Fiber mode: single mode, multiple mode
PC / UPC / APC Polishing
Low insertion loss , high return loss
The cable dimmer: 3.0mm,2.0mm,0.9mm
Compliant: ROHS, ISO9001:2008
Fully tested to ensure zero defects before leaving the factory
Connector Type: FC / SC / ST / LC / MU / MTRJ
Applications:
Fiber Optic Telecommunications
LAN (Local Area Network
FTTH (Fiber To The Home)
CATV&CCTV
High speed transmission systems
Fiber optic sensing
Images of product: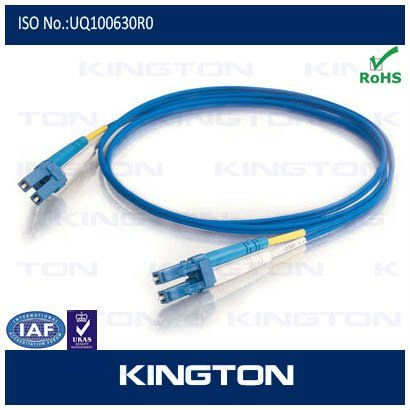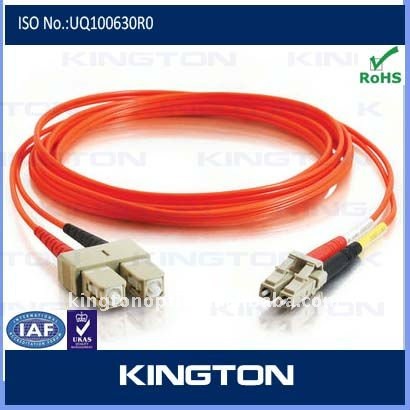 Specifications:
Type

Standard,Master

Style

LC,SC,ST,FC.MU,DIN,D4,MPO, SC/APC,FC/APC,LC/APC.MU/APC
Duplex MTRJ/Female, MTRJ/Male

Fiber Type


9/125 SMF-28 or equivalent (Singlemade) OS1
50/125, 62.5/125 (Multimode) OM2&OM1
50/125, 10G (Multimode) OM3


Cable Type

Simplex, Duplex (Zipcord)
Φ3.0mm, Φ2.0mm, Φ1.8mm
Φ1.6mm PVC or LSZH
Φ0.9mm, Φ0.6mm buffered fiber PVC or LSZH

Polishing Manner

UPC,SPC,APC (8°& 6°)

Insertion Loss

≤ 0.1dB (For Singlemode Master)
≤ 0.25dB (For Singlemode Standard)
≤ 0.25dB (For Multimode)
Tested by JDS RM 3750

Return Loss
(For Singlemode)

UPC ≥ 50dB
SPC ≥ 55dB
APC ≥ 60dB (typ.65dB)
Tested by JDS RM3750

Repeatability


±0.1dB


Operating temperature

-400C to 850C

Geometry Requirement
(For Singlemode)

Ferrule Endface Radius
7mm ≤ R ≤ 12mm (For APC)
10mm ≤ R ≤ 25mm (For Standard)
Apex Offset ≤ 30 μm (For Master)
Apex Offset ≤ 50 μm (For Standard)
Undercut -50nm ≤ U ≤ 50nm
Tested by DORC ZX-1
For more information, please feel free to contact us! We are
at your service all the time!