Sintered NdFeB disc magnet is the strongest magnet in the world till now that can lift up to 1000 times its own weight, it is mainly made of Neodymium, Iron and Boron. It is high remanence, high coercive force, high energy product and high performance/cost ratio. Neodymium magnet is anisotropic and only magnetized in one direction.
Feathers:
1. Materials: Neodymium-Iron-Boron;
2. Technology: Utilizes new Sintered NdFeB magnet techniques and equipment such as strip casting, HDDR technology;
3. Magnetic properties: High coercive force, the max operation temperature is up to 240°C or 464°F;
4. Grades: N30-N54, N30M-N52M, N30H-N50H, N30SH-N45SH, N28UH-N42UH, N26EH-N38EH, N28AH-N35AH;
5. Shapes: Disc ( round), others;
Pictures of
Sintered NdFeB disc magnet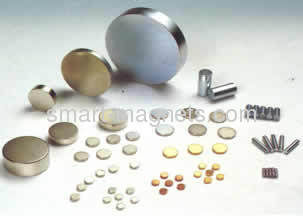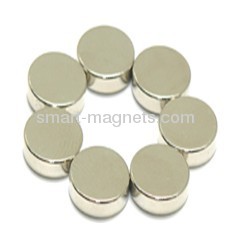 6. Sizes: Diameter x H, Customized;
| | | |
| --- | --- | --- |
| Disc/Round | Diameter | Thikness |
| Maximum | 220mm | 35mm |
| Minimum | 0.30mm | 0.5mm |
7. Tolerance of Sintered NdFeB disc magnet : ±0.05mm, Customized;
8. Coatings: Passivation, Nickel, Zinc, Tin, Aurum, Copper, Epoxy, Chemical, etc.
Surface

Coating

Thickness (Microns)

Color

Resistance

Passivation

1

Silver grey

Temporary protection

Nickel

Ni+Ni

10-20

Silver bright

Excellent to humidity

Ni+Cu+Ni

Zinc

Zn

8-20

Shining light blue

Good to salt spray

Cu-Zn

Shining color

Excellent to salt spray

Tin

Ni+Cu+Sn

15-20

Silver

Superior to humidity

Aurum

Ni+Cu+Au

10-20

Shining gold

Superior to humidity

Copper

Ni+Cu

10-20

Shining gold color

Temporary treatment

Epoxy

Ni+Cu+Epoxy

15-25

Black, red, grey color

Excellent to climate humidity and salt spray

Zn+Epoxy

Chemical

Ni

10-20

Silver grey

Excellent to humidity
9. Applications of Sintered NdFeB disc magnet: sensors, motors, rotors, wind turbine,wind generators, loudspeakers, magnetic hooks, magnetic holder, filters automobiles, Toys, packing boxes, magnetic buttons, jewelry, micro-special electric machinery, audio equipments, permanent-magnet instrumental meters, electronic industry, auto industry, nuclear magnetic resonance equipments, magnetic transmission gears and magnet therapy equipment, sorption, ads, books managements, teaching tools and other office automation, magnet toys, aero generators, magnetic toys, magnetic separators, magnetic bracelets, magnetic necklaces, copiers, magnetic rolls, synchrotrons, radiation sources, free electron lasers, nuclear industry, agriculture, detection earthquake.
and so on.