24v dc gear motor

Test Voltage: 12VDC/24VDC
No load current: < 1.4A
No load speed: >82rpm
Rated load: 3NM
Rated current: < 7.0A
Rated speed: >55rpm
Stall torque: 8.2-10NM
Stall current: <26A
1. Resistance between insulated metals in a cold state motor can be larger than 1MΩ measured by a 500V insulation resistance
2. The motor is provided with a 0.1uF condenser which will be able to prevent generation of radio noise
3. Surface treatment of a motor can suffice the corrosion resistance
4. The performance and drawing of motor is indicated in an approved drawing.
5. The motor can not rotate in reverse direction when it is applied 150kg.cm(14.7NM) torque.
6. Circuit breaker characteristic: a first trip(operation) time is 4-30 sec, and resume time is less than 20sec. A voltage drop in a circuit breaker is smaller than 0.03V/A
7. The noise of motor is less than 55DB, when the distance between motor and noise tester is 30cm, and the background noise is less than 40DB.
8. Water resistance: While water is sprinkled on a motor with water spray volume of 200-250cc/min, the motor should be operated for 1 hour and stop for 11 hours and such operation should be repeated 60 times continuously. After test, there is no infiltration of water.
9. Vibration resistance: Vibration test according to JIS D1601(stage 4) is made in 3 direction for 4 hours vertically, and for each 2 hours laterally and longitudinally, and during the vibration test voltage should not be applied to motor. After test,a variation of output characteristic is 20% or less of the condition before the test.
10. The motor can be passed the following endurance test:
Test voltage: 13V(+/-0.2V) The electric resistance between power supply and motor is less than 0.2Ω
Room temperature(23℃): 4500cycles
80℃ humidity 10%: 4000cycles
55℃ humidity 95%: 3000cycles
-20℃: 4000cycles
Room temperature(23℃): 4500cycles
Total is 20000cycles.
One cycle is up to top from the bottom, then down to bottom from top. The load of motor is 3NM. 1-2cycles/min.
24v dc gear motor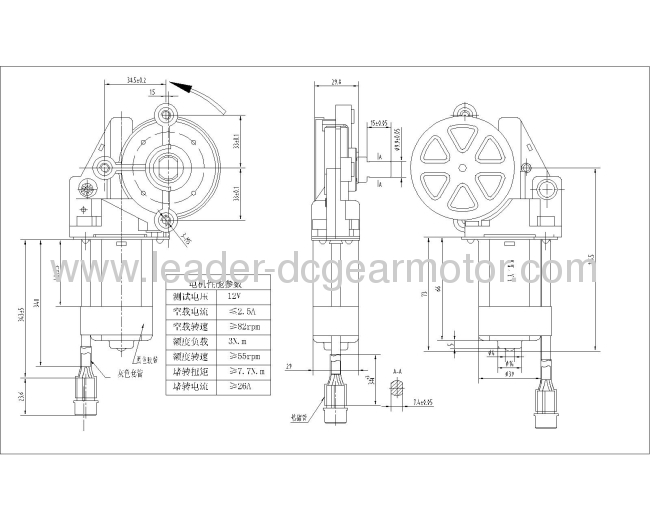 24v dc gear motor