The advantages of the
12v high torque low rpm electric motor



1>the factory have the rich exprience and skill for the motor series. we are specialized in manufacturing various power window motor and window lift motors with excellent equipments and strong technical skills with 10years of experience.
2>compact size design
3>low rpm High torque output
4>Reliable performance
5>In-time & Professional After Sale Service
6>credible quality,the factory pass the ISO/TS16949,all the quality of the products are accord with this systerm.
7>.competitive price,our ultimate purpose is set up the long and close businese relationship with any customer,it makes all our price are equal and suitable.
8>Way of commutation:Carbon brushes
9>Warranty:one year
10>Packing:netral packing or according to the cutsotmer's requirement\
11>Fit for both aftermarket and OEM
The parameter of the
12v high torque low rpm electric motor:


ITEM

Voltage(v)

No loadingcurrent(A)

No loadingspeed(rpm)

Current

(3N.m)(A)

Speed

(3N.M)(rpm)

Max.torque

(N.m)

Blockcurrent(A)

CSD80A

12

≤1.4

≥82

≤7

≥55

8.2-10

≤26
More specification of the
12v high torque low rpm electric motor:


1. Resistance between insulated metals in a cold state motor can be larger than 1MΩ measured by a 500V insulation resistance
2. The motor is provided with a 0.1uF condenser which will be able to prevent generation of radio noise
3. Surface treatment of a motor can suffice the corrosion resistance
4. The performance and drawing of motor is indicated in an approved drawing.
5. The motor can not rotate in reverse direction when it is applied 150kg.cm(14.7NM) torque.
6. Circuit breaker characteristic: a first trip(operation) time is 4-30 sec, and resume time is less than 20sec. A voltage drop in a circuit breaker is smaller than 0.03V/A
7. The noise of motor is less than 55DB, when the distance between motor and noise tester is 30cm, and the background noise is less than 40DB.
8. Water resistance: While water is sprinkled on a motor with water spray volume of 200-250cc/min, the motor should be operated for 1 hour and stop for 11 hours and such operation should be repeated 60 times continuously. After test, there is no infiltration of water.
9. Vibration resistance: Vibration test according to JIS D1601(stage 4) is made in 3 direction for 4 hours vertically, and for each 2 hours laterally and longitudinally, and during the vibration test voltage should not be applied to motor. After test,a variation of output characteristic is 20% or less of the condition before the test.
10. The motor can be passed the following endurance test:
Test voltage: 13V(+/-0.2V) The electric resistance between power supply and motor is less than 0.2Ω
Room temperature(23℃): 4500cycles
80℃ humidity 10%: 4000cycles
55℃ humidity 95%: 3000cycles
-20℃: 4000cycles
Room temperature(23℃): 4500cycles
Total is 20000cycles.
One cycle is up to top from the bottom, then down to bottom from top. The load of motor is 3NM. 1-2cycles/min.
The profile drawing of the
12v high torque low rpm electric motor: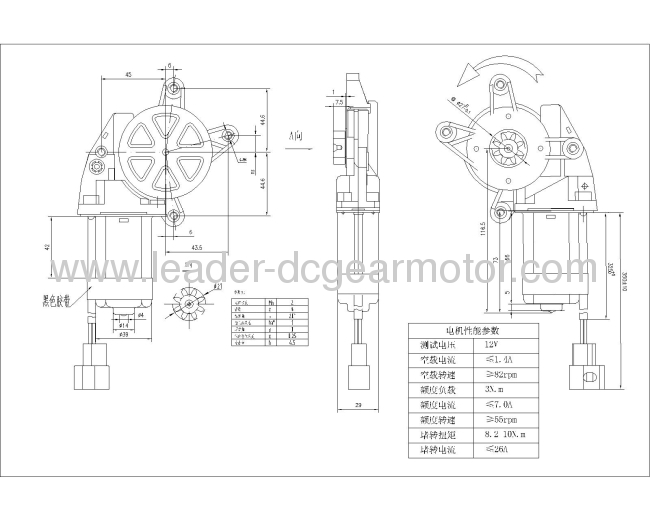 The detail photos of the
12v high torque low rpm electric motor:

The information of the factory which produced the
12v high torque low rpm electric motor:


We specialized in the development and manufacture of various power window motors with excellent equipments and strong technical skills, we have established good business relationships with customers all over the world. Our company built at 2001, the floor area is more than 10000 square meters. We have attained TS16949 certification, and we control the quality according TS16949 system strictly. To meet the demands of both domestic and foreign markets, we have strong OEM capability and an experienced R & D team and a reliable quality guarantee as well as after sales service.


The equipment of the workshop which prodced the
12v high torque low rpm electric motor: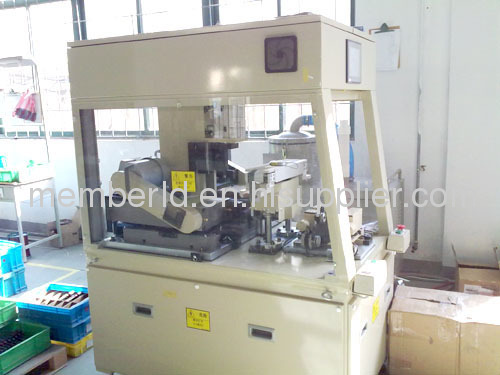 The certification of the quality systerm for the factory and
the 12v high torque low rpm electric motor :