4pcs folding chopping board in good performance

Specifications
YZ-K005B-4-5
4pcs folding chopping board
Product size: 338*80*235mm
Raw materials : pp and ABS (FDA/LFGB certification)
Packing color box
Color box size 345*85*248mm
Carton size 440*360*265mm
Qty/ctn 5set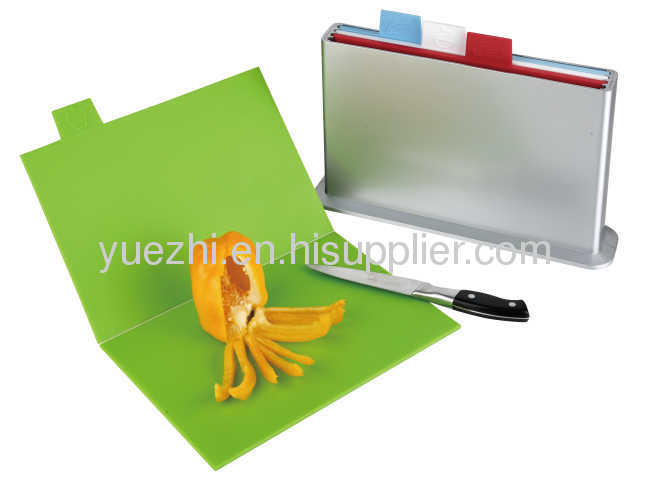 4pcs folding chopping board in good performance
Advantages
Strongle guarantee
all chopping boards can pass both
FDA and LFGB test
Absolutely safety for food contact
Cooked food will never damage the board as its temperature
Tolerance can be as high as 130 centigrade
Easy washed board and fashion base, always your kitchen top choice!
Polypreopylene chopping boards
Colour coded system:blue for seafood ,red for raw meat
White for cooked food and green for veggies.
Boards are stored in staggered order for visual sese
Lllustrated tabs provide at-a-glance reminder
Contemporary ABS storage case with a non-slip base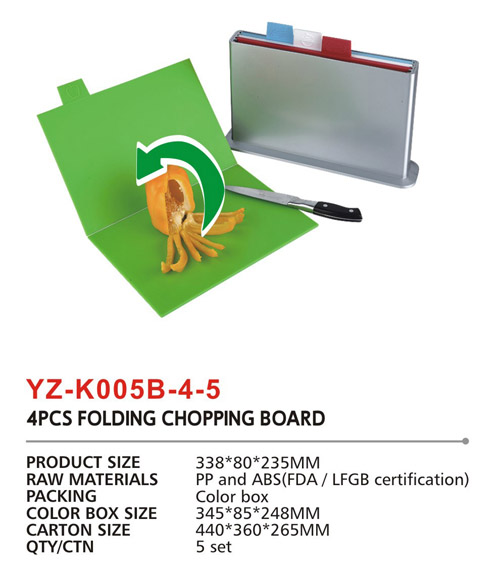 Features:
sanitary, indestructible, high heat resistant

1 Heat resistant:the perfect surface protector. you can use your board as a temporary resting place for pans and dishes straight from the oven or hob.

2 Cheese board: totally hygienic and ideal for the presentation for the table, it makes a superb cheese board and is perfect for cutting & serving pizzas.

3 Easy clean: designed with easy cleaning in mind-simply wipe over with a damp cloth. the pattern is so on the underside, so it can not rub off.

4 Perfect for slicing: the non-porous surface will not absorb strong odours or staines, unlike some othe boards which look unsighly and can harbour bacteria.

5 Bread board:boards are available in a wide range of beautiful designs. they are ideal for all kinds of food preparation, indoors and outdoors.

6 Ideal for pastry: the cool surface of the board makes an ideal surface for rolling pastry. a quick wipe and it's ready for the nest task.