Sintered NdFeB(Neodymium-Iron-Boron) rare earth magnets are the strongest magnets in the world up to date, with high flux density and high coercivity, the range of energy product is 26--54MGOe. Sintered NdFeB magnets are anisotropic and only magnetized in one direction. neodymium arc magnet are widely used in Motor, Separator, lifting, sensor, loudspeaker, MRI, VCM, and other electronics, automation systems.
1. Produced by powder metallurgical method with chemical composition of Nd Fe B;
2. Excellent cost to performance ratio;
3. Reasonable temperature stability;
4. Very brittle & hard;
5. High resistance to be demagnetized;
6. Poor corrosion resistance to be corrupted;
7. Not suitable for application which is exposed in high temperature conditions.
8. Shapes: segment / tile / arc magnets,;
Sample picture of
neodymium arc magnet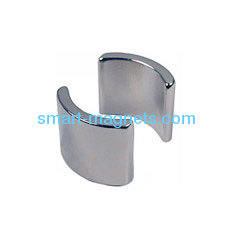 9.
Sizes: OR
x IR x H x Degree, Customized;
10. Tolerance: ±0.05mm, Customized;
11. Coatings of neodymium arc magnet: Passivation, Nickel, Zinc, Tin, Aurum, Copper, Epoxy, Chemical, etc.
Surface

Coating

Thickness (Microns)

Color

Resistance

Passivation

1

Silver grey

Temporary protection

Nickel

Ni+Ni

10-20

Silver bright

Excellent to humidity

Ni+Cu+Ni

Zinc

Zn

8-20

Shining light blue

Good to salt spray

Cu-Zn

Shining color

Excellent to salt spray

Tin

Ni+Cu+Sn

15-20

Silver

Superior to humidity

Aurum

Ni+Cu+Au

10-20

Shining gold

Superior to humidity

Copper

Ni+Cu

10-20

Shining gold color

Temporary treatment

Epoxy

Ni+Cu+Epoxy

15-25

Black, red, grey color

Excellent to climate humidity and salt spray

Zn+Epoxy

Chemical

Ni

10-20

Silver grey

Excellent to humidity
9.
Applications of
neodymium arc magnet
: sensors, motors, rotors, wind turbine,wind generators, loudspeakers, magnetic hooks, magnetic holder, filters automobiles, Toys, packing boxes, magnetic buttons, jewelry, micro-special electric machinery, audio equipments, permanent-magnet instrumental meters, electronic industry, auto industry, nuclear magnetic resonance equipments, magnetic transmission gears and magnet therapy equipment, sorption, ads, books managements, teaching tools and other office automation, magnet toys, aero generators, magnetic toys, magnetic separators, magnetic bracelets, magnetic necklaces, copiers, magnetic rolls, synchrotrons, radiation sources, free electron lasers, nuclear industry, agriculture, detection earthquake.and so on.
Payment Terms:
We accept TT & western union & L/C.
Shipping:
1.Terms of Shipment:
By sea, by air, by express courier to the world, Before ordering please contact us to confirm your preferred shipment method.
Feedback:
Customer satisfaction is very important to us. If you are satisfied with the items you ordered, please leave feedback. If you are not satisfied with the items you ordered, please contact us before leaving negative feedback. We can work together to resolve any dispute.