Neodymium Magnet, Sintered NdFeB magnet, the third generation of rare-earth permanent magnet, is the most powerful and advanced commercialized permanent magnet up to date. Neodymium Magnet has high coercive force, high energy and high performance/ cost ratio. It can be formed into various sizes and widely used in many fields such as aviation, electronics, instruments, meters, machines and medical instrument.
Feathers of strong neodymium segment magnet:
1. Produced by powder metallurgical method with chemical composition of Nd Fe B;
2. Excellent cost to performance ratio;
3. Reasonable temperature stability;
4. Very brittle & hard;
5. High resistance to be demagnetized;
6. Poor corrosion resistance to be corrupted;
7. Not suitable for application which is exposed in high temperature conditions.
8. It is always manufactured via Cutting, Slicing, Drilling, and grinding etc.
9. Shapes: segment / tile / arc magnets,;
Picture of
strong neodymium segment magnet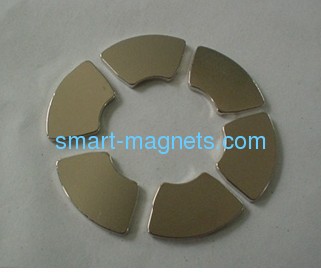 10. Sizes: OR x IR x H x Degree, Customized;
Our factory produce and manufacture magnets according to customer's design on shape, dimension, grades, coatings etc.
To offer you our tube/ring magnets price, please offer the following details :
Magnets grade of
strong neodymium segment magnet
: from N33 To N54 ,from N Series to AH Series.
Magnet N-( N33, N35, N38, N40, N42, N45, N48, N50, N52, N54),
Magnet M-( N33M, N35M, N38M, N40M, N42M, N45M, N48M, N50M, N52M),
Magnet H-( N30H, N33H, 35H, 38H, 40H, 42H, 45H, N48H, N50H),
Magnet SH-( N30SH, 33SH, 35SH, 38SH, 40SH, 42SH, N45SH),
Magnet UH-( N28UH, N30UH, N33UH, N35UH, N38UH, N40UH, N42UH),
Magnet EH-( N26EH, N28EH, N30EH, 33EH, 35EH, N38EH)
Magnet AH-( N28AH, N30AH, 33AH, 35AH)
Magnetism direction : which direction to oriented The north pole and south pole
Magnets coating of strong neodymium segment magnet:
| | |
| --- | --- |
| Type | Information |
| Metallic | Zinc, Nickel, Nickel+Nickel, Copper+Nickel, Nickel+Copper+Nickel, Gold, Silver, Tin |
| Organic | Epoxy, Nickel+Epoxy coating |
| Temporary | Surface Pssivation |
Applications of
strong neodymium segment magnet
: sensors, motors, rotors, wind turbine,wind generators, loudspeakers, magnetic hooks, filters automobiles, Toys, micro-special electric machinery, audio equipments, electronic industry, auto industry, magnetic transmission gears and magnet therapy equipment, sorption, ads, teaching tools and other office automation, magnet toys, aero generators, magnetic toys, magnetic separators, magnetic bracelets, magnetic necklaces, copiers, synchrotrons, radiation sources, free electron lasers, agriculture, detection earthquake, and so on.