Ultra destructible label papers for offset printing,destructive label vinyl materials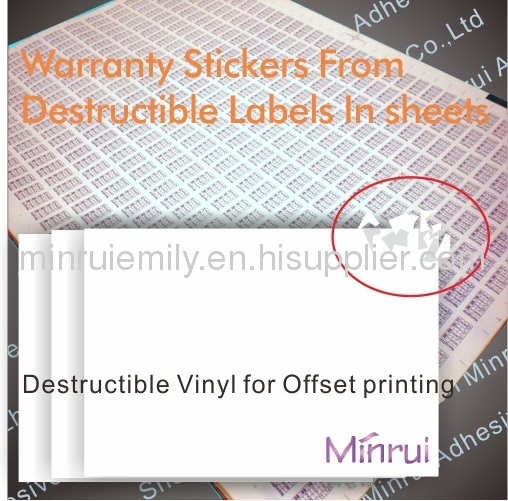 The sheet size can be customized,ultra destructibel label papers for offset printing.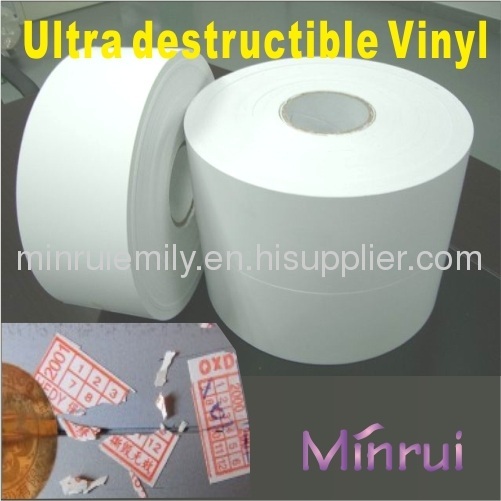 Ultra Destructible Label Paper,destructible vinyl label materials:
Ultra Destructible Vinyl Data Sheets
Facestock thickness:
0.1mm
Adhesive:
water-proof SENSITIVE strong adhesive
Coating Thickness:
0.025±0.002mm
Dry Coating Weight:
50±2g/square meter
Peel Adhesivon:
12# ball
Release liner thickness:
Glassine liner (80g)
white coated liner (180g)
Tensile Strength:
9.0kg/15mm
Elongation:
2‰----4‰
Color:
white or you could custom other colors
Smoothness and printability :
good
Release Force:
≥8N
Holding Power:
24 hours
Temp Range:
-5---40℃
Solvent Resisrance:
Good
Breaking Strength:
5.0kg/cm²
Die Cutting:
Good
1:manufacturer of
destructible adhesive vinyl
2:jumbo rolls,large storage for sale
3:factory price and quickly leading time (in 3 work days in common)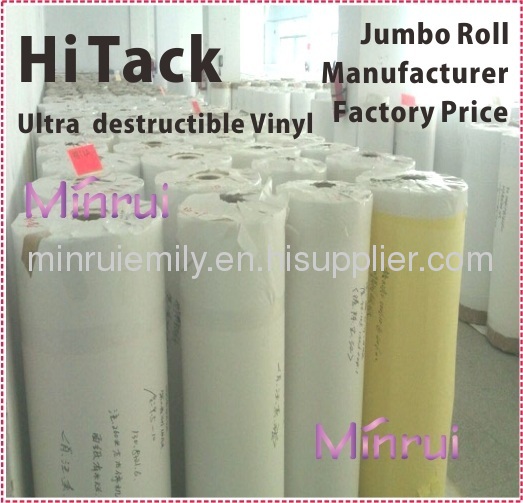 Minrui Adhesive Products Co.,Ltd in Shenzhen,Guangdong,China.

We are a manufacture of
destructible adhesive vinyl
more than 10 years in China. Unlike the vast majority of our competitors, we produce this kind of special facestock by ourselves and coat the label paper with silicone and adhesive, we slit our own rolls and we diecut our labels. We accomplish all this in our 20,000 square maters manufacturing facility located just in Bao'an District,ShenzhenCity,China. This backward integration allows us to sell our product for good quality and less price than our competition and gives us greater control of the supply chain to ensure our customers receive only the highest quality goods.
We always have many square materials of raw paper,
ultra destructible vinyls,destructible adhesive vinyl,destructible vinyl,vinyl sheeting rolls
stored in our manufacturing facility, and converted into labels for our customers.We offer direct destructible security label materials and their ribbons as well as wax/mixed ribbons. Our labels come in different solid colors, and you can tell us the core sizes. We offer labels designed for both hand application as well as auto-apply labels.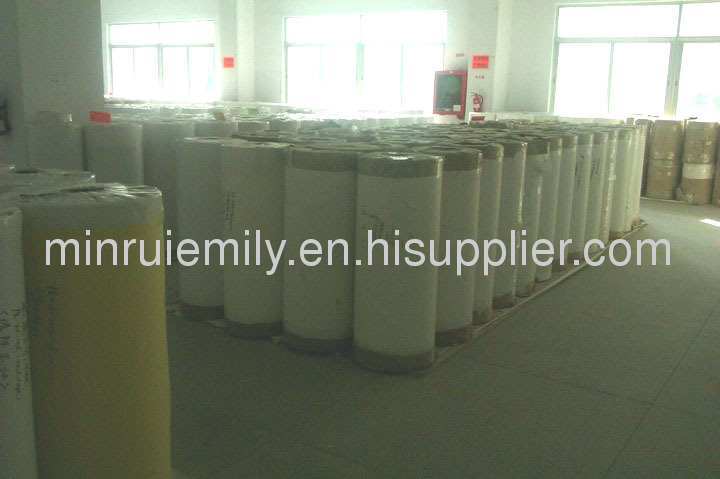 Please attention:
Some other destructible label papers (from some other companies) are very brittle,even a little morn brittle than our most brittle models.What's morn they are very sticky,you will feelling the good sticky as soon as you test them
But what's the diferences between our papers from some other destructive label papers?

1:the adhesive :
Our adhesive is water-based and the labels will have a good effect after you stick on something surface for 48 hours enough!Then the glue will permeate into the surface and they will be very sticky!That is because we have moisturizing processing,it can make the users to print and stick the labels simply!
Others use oil-based adhesive,they wil be very sticky and will have good sticky effect as soon as you test them the first time,but as the days passed away,the labels will be no sticky and then drop down

2:the brittle grade:
Our papers have moisturizing processing,it can make the users to print and stick the labels simply!And you could storage them for a half of years.It canbe promised that the materials won't be destructed in the processing of make the papers into labels and stick on the products
Others are very brittle,like eggshells.At first you will think it is very good of the brittle,but they will be destructed before printing in winter or in low temperatures
Because the brittle grades are changed with the temperatures,low temperatures results in high brittle.What's morn the inferior labels will increase.
Model:11A0 with Galssine liner
1brittle grade: A (very easy on brittle)
2the facestock is smooth and the print effect is good
3use common ribbon printer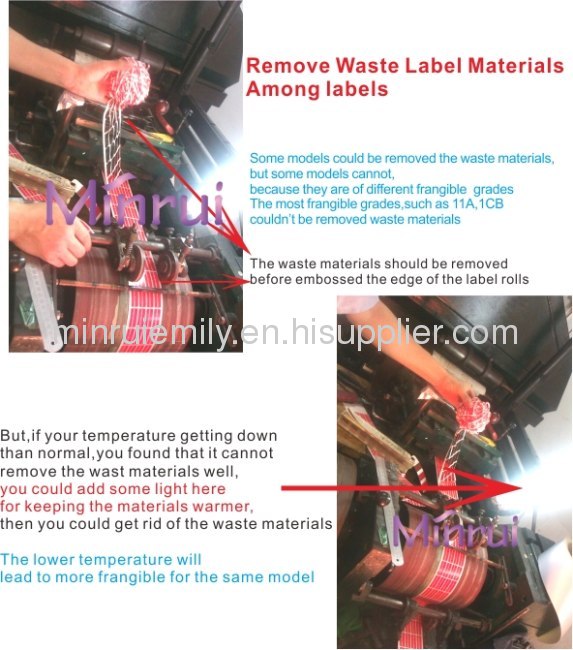 Glassine release liners (80g) ultra destructible vinly could be printed barcode labels,but white coated (180g) could be printed by offset!


Our destructive papers are on 4 grades of brittle
Please check as below:

Grade A:very brittle of the facestock,But it is hard to cut the spare papers
Grade B:moderate brittle of the facestock,but it is tend to Grade A.The spare papers cannot be cutted by hand,cannot by machine
Grade C:moderate brittle of the facestock,but it is tend to Grade D.The spare papers can be cutted by machine
Grade D:
the facestock is not very easy brittle.The spare papers can be cutted by machine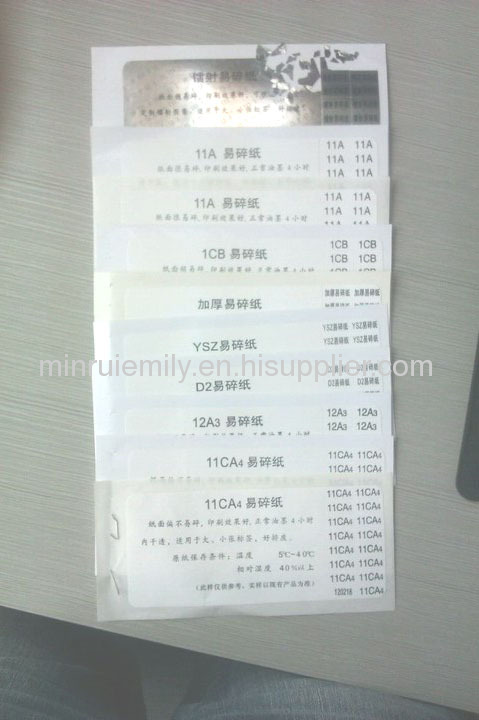 Our serials of Ultra destructible vinyl:
*matt white ultra destructible vinyl

*gloss white ultra destructible vinyl

*colorful destructible vinyl stickers materials

*transparent ultra destructible vinyl

*metallic ultra destructive vinyl

*waterwave unique destructible vinyl rolls

*water-damaged destructible vinyl

*hologram destructible vinyl label materials

*lamination desructible adhesive label materials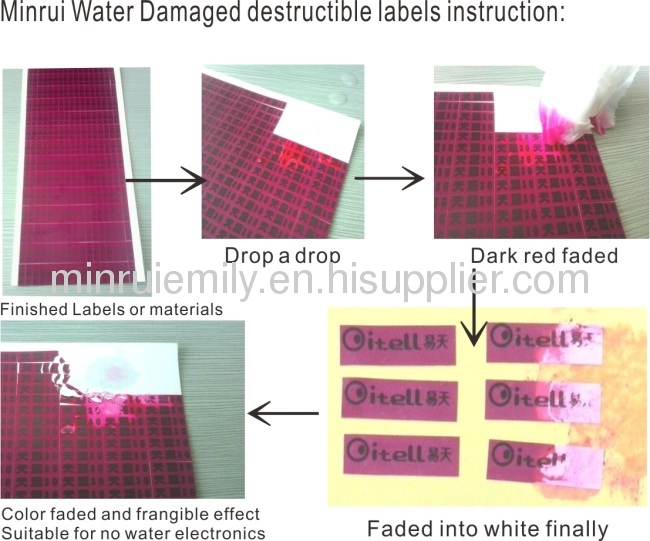 For further information,please check our blog on the left in the catalog!
Or you could contact with us for the date sheets and instructions,we will get you back in 24 hours!^_^