Product name: 12 Volts DC Input 2000lbs pulling electric yacht trailer winch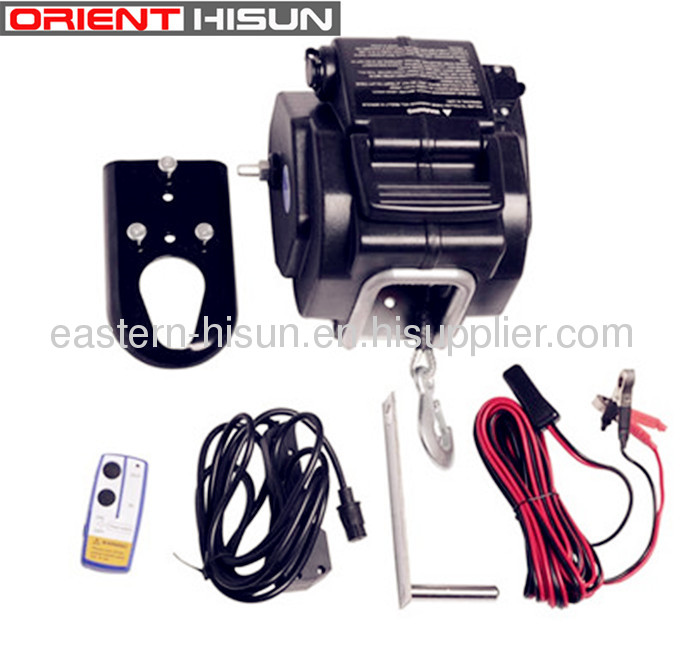 1.12 Volts DC Input
2.Line Speed:6 Ft/Minute
3.Capacities:2000 Lbs Pulling
4.Max.Boat Size:18'
5.Max.Boat Weight:5000lbs
2000lbs Off Road Jeep Electric Winch
Our ATV Winch products have excellent quality and excellent price competitiveness, we can according to customer's different requirements to make production, including OEM, ODM services.
Our advantage :60% of the basic components of the product on their own production.
Our services :Think customers want, customers do not want to think.
Our commitment to :Only 100%, not 99%
More detailed information about products or related issues, please contact us and we will reply as soon as possible (usually within 24 hours).
2000LbsPerformance Specifications
Item

Description

Electrical Requirements

12 Volts DC Input

Load Capacities

6000 Lbs. (Rolling)

5000 Lbs. (Marine)

2000 Lbs. (Pulling)

Max.Boat Size

18′

Max.Boat Weight

5000 Lbs.

Line Speed

6 Ft/Minute with load

Cable

Φ5/32″×30′(Φ4mm×9.2 m)

Hook Size

1/4″

Battery Cable length

14′9″(L)

Remote Cable length

6′(L)

Remote Switch

9′9″(L)

Mounting Plate

8-3/4″×4-15/16″×3/16″

Overall Dimensions

9-1/2″×7-1/2″×10″

Net Weight

18.6 Lbs(8.4Kgs)
Quality & Inspection:
Cooperated with good reputation suppliers.
100% check spare parts quality which produced from matching suppliers.
QC checking each step from spare parts to production on the full of line.