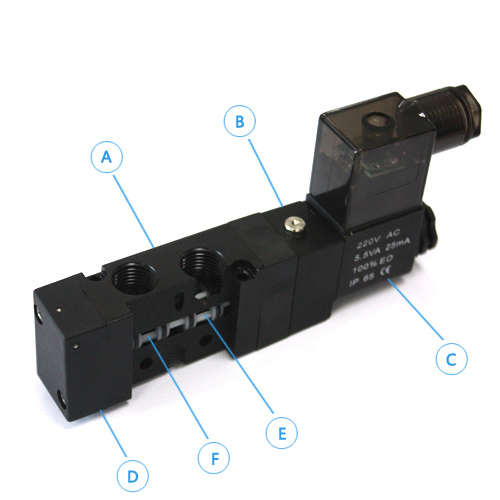 Our factory to provide high-end spacer sleeve solenoid valve.
Detail description:
A: Solenoid Valve Body
1. Solenoid valve body using high-end aluminum material.
2.All valve body are machining by CNC machines,so valve body precision conform to the high-end valve requirements.
3.The body surface through the hard oxidation treatment and sand blast.
B:Solenoid valve armature
1.We combined with SMC product design concept,we independent development the structure more reasonable, gas circuit more fluid, piston motion more stable armature,at the same time, extending using life.
C: Solenoid valve coil
1.We equipped with not easy fever, low power, is not easy to burn out of high-end coil,.
2.According to the customer work environment, can be equipped with explosion-proof coil.
D:Solenoid valve bottom cover
1.We adopted the new air reset mode, Through the airflow to promote bottom cover internal piston motion, so that the valve rod can accurate reset. This design to avoid the Spring be compressed many times and deformation,so the valve rod can't accurate reset then appear leak.
2.This structure can make the solenoid valve in high frequency environment used for a long time.
E:Solenoid valve internal structure
1.We adopted independent development the spacer sleeve structure.Core set of precision with reliable seal between formation, abandoned contains many of the fault factors O type circle dynamic seal.
2.Action is sensitive,start-up pressure low.
3.A little bit dustproof.
4.30,000,000 times life.
F:Solenoid valve shaft and Spacer material
1.Shaft:material aluminum 6061 ,through the hard oxidation.
2.O-ring:material high-end NBR.
3.Black case:material POM.