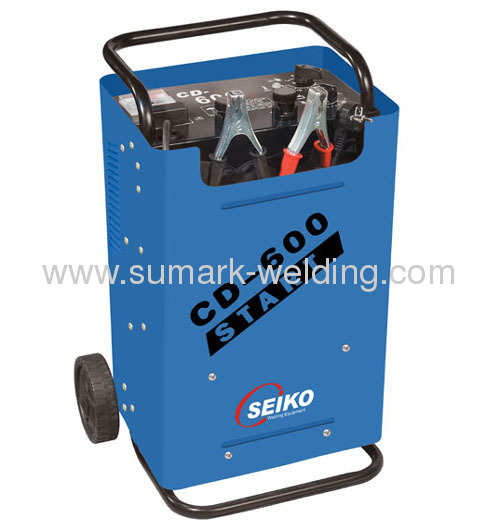 BATTERY CHARGER/BOOSTER


Product Description
Our Products have been sold in more than 30 countries & regions, our main markets are Southeast of Asia, South America, European, South Africa & Middle-East Countries, our products have received a high reputation due to high quality & competitive price.
Products Features:
1). Single phase,battery charger and starter, on wheels, for charging LEAD-ACID battery with 12/24V voltage and starting all kinds of cars , vans, light trucks.
2). Protected against overloads and polarity reversal, equipped with selector for normal or quick(boost) charge, quick start, equipped with ammeter.
3). With complete accessories: Charging cable(1.5+1.5)m,two clamps, exchangeable fuse,color box.
Advantages
(1)100% check spare parts quality
(2)Low input resistance and high output current
(3)Displays charge and start currents
(4)2 functions in 1 (charge & start)
(5)Superior longer lasting switch
(6)Automatic thermal protection
(7)Wide adjustable timer range
(8)Polarity inversion safeguard

MODEL

Rated Input Voltage (V)

Charging
Voltage
(V)

Max Charging Current
(A)

Start Current
(A)

Battery Capacities(Ah)

Protection Degree
(IP)

Packing Size
(mm)

Weight
(Kg)

CD-200

800W-(12V)
1800W-(24V)

230/1Ph

12/24V

35A

180A

20-200

IP21

510x290x340

16.0

CD-320

1000W-(12V)
2000W-(24V)

230/1Ph

12/24V

45A

300A

30-300

IP21

18.0

CD-420

1200W-(12V)
2000W-(24V)

230/1Ph

12/24V

60A

400A

40-400

IP21

20.0

CD-500

1300W-(12V)
2100W-(24V)

230/1Ph

12/24V

75A

500A

50-500

IP21

23.0

CB-600

230/1Ph

12/24V

90A

600A

60-600

IP21

27.0