High Pressure Spray Guns S710-S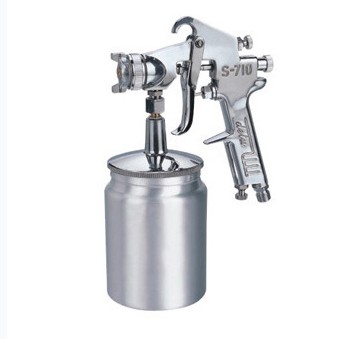 F-710-1.0mm is mainly used for finishing delicate surface and partial small areas,such as cars and pianos.
F-710-1.3mm is mainly used for finishing su faces of high gloss products such as cars,furniture and home electric appliance.
F-710-1.3mm 1.8mm ismainly used for spray painting medium and highly adhesive surface such as cars and machinery.
Dia.of Painting Nozzle:Φ1.0mm Φ1.3mm Φ1.5mm or Φ1.8mm

Standard designated hole number of air cap sets:7holes

May be upgraded to 9,11,13 or 15 holes

Rated Pressusr:70PSI

Max.Pattern width of Fan shaped:180-250mm

Capacity of Paint Container:600ml

Standard designated gun body surface treatment is polishing ,may choose paint-spary,chrome-plated ,gold-plated etc.