fashion hematite magnetic bracelets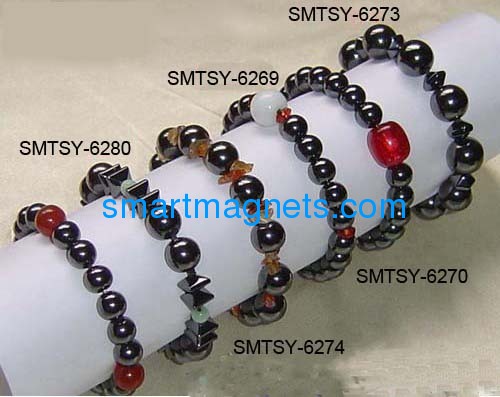 Feathers:
1) Material: Magnetic Hematite beads.
2) Magnetic field: approxi 700-800Gauss
3) Length: 17CM.
4) Elegant and dignified appearance.
5) Magnet remember to upgrade your health in good faith for the escort!
6) Delivery time: the proof sample is within 7 days, the common order is about 15 days.
7) OEM or ODM are available.
8) The most effective magnetic therapy can be pain relief, natural healing, and more restful, enjoyable sleep. Magnetic ornaments make you in possession of beauty as well. as health. magnetic articles can increase the vibrate ions in blood which promote blood cycle. Recent studies show that magnetic bracelets and necklaces have obvious effect on keeping pressure stable, keeping people from high blood pressure, decreasing the heart attacks. Magnetic products also have favorable assistant treatment on diseases such as lumbago, backache, body limb numbness, insomnia and headache caused by unbalanced internal cycle. The role of improving the human body using magnetic micro-circulation, and promote human blood circulation, purify the blood, speed up cell metabolism, to restore the flexibility of the vessel wall.
9) Payment Terms:
We accept TT & western union & L/C.
10) Terms of Shipment:
By sea, by air, by express courier to the world, Before ordering please contact us to confirm your preferred shipment method.
11) Feedback:
Customer satisfaction is very important to us. If you are satisfied with the items you ordered, please leave feedback. If you are not satisfied with the items you ordered, please contact us before leaving negative feedback. We can work together to resolve any dispute.

Description of magnetic jewelry:
Magnetic jewellery are made of ferrite magnets / hematite magnets, perfect polishing, many types of necklaces, bracelets, rings, ears, pendants, chains, etc. They are Magnetic therapy, which has established itself as a very effective alternative to drug treatment or the relief of pain and discomfort associated with a wide range of ailments. The more people try this magnetic therapy, the more persons are becoming 'converted' and pass the word along to fellow sufferers.
The design and Hi-Density Magnets attract fresh blood to the painful area. This stimulation of the blood circulation carries away damaged and toxic materials which cause the pain. This process not only helps to relieve the discomfort but can also speed up the recovery time. The advanced design of products retains body heat in the area of pain whilst allowing the skin to breath. This coupled with the circulation stimulation is why these products are the most comfortable and effective magnetic therapy product available.
Lack of magnetic should be 'up magnetic' vigilance 'Magnetic hunger syndrome' (from the China Sports Daily) in the city of skyscrapers, vehicles such as the flood of modern society, the original diagnosis by experts is suffering from a rare diseases of modern civilization ----' magnetic starvation. ' Clinical indicate: intractable headache, insomnia, fatigue, dermatitis, and joint pain. As a result, they produce a variety of autonomic nervous system disorder. Lack of magnetic, it should be 'up magnetic.' Scientists made the following points: to 'magnetizing' measures appropriate to supplement the magnetic body, so that cells are bio-magnetic induction, thereby promoting the vitality of cells. A variety of magnetic devices, such as magnetic bracelets, magnetic necklace, magnetic earrings, magnetic waist chain, magnetic insoles, magnetic cup, magnetic ring, magnetic bar and magnetic mattress, magnetic pillow, etc. can be added magnetic. The role of improving the human body using magnetic micro-circulation, and promote human blood circulation, purify the blood, speed up cell metabolism, to restore the flexibility of the vessel wall.
Magnet therapy is the application of the magnetic field of electromagnetic devices or permanent static magnets to the body for purported health benefits. Some practitioners assign different effects based on the orientation of the magnet; under the laws of physics, magnetic poles are symmetric.
Magnetic ---- is the treasure of human health! pursue health and beauty is the greatest wealth! ~ Jewelry ~ unwittingly recorded a magnet in your side, beautify your life, health, your life, work hand in hand and build nice new time!