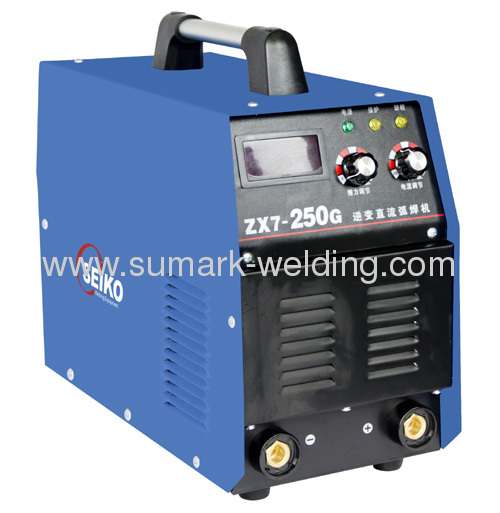 JASIC type IGBT INVERTER MMA WELDING MACHINE


Products Features:
1). Three-phase, portable, fan-cooled, thermostatic protection, movable welding cable.
2). Adopt advanced IGBT inverter technology, light weight, accord with EMC standard.
3). Compact size, portable, high duty cycle, low consumption, energy saving.
4). With strong compensation capability, resistant to voltage fluctuation, stable welding current.
5). Easy arc starting, minimal spatter, stable current & great shaping.
6). Widely used in acid and basic Electrodes welding.
7). Complete Set Welding Accessories: Electrode holder, earth clamp, brush/hammer, welding mask.

MODEL

Rated Input Voltage (V)

Input Capacity
(KVA)

Current Range
(A)

No-load Voltage
(V)

Duty Cycle
(%)

Protection Degree
(IP)

Usable Electrode
(mm)

Insulation Class
(H)

Packing Size
(mm)

Weight
(Kg)

MMA-250T

230/1Ph

7.2

10-250

62

60

IP21

1.6-5.0

H

510*270*330

9.5

ZX7-250G

380/3Ph

9.2

10-250

65

60

IP21

2.0-5.0

H

565*310*410

13.5

ZX7-315G

380/3Ph

13.8

10-300

65

60

IP21

2.5-6.0

H

565*310*410

18.0