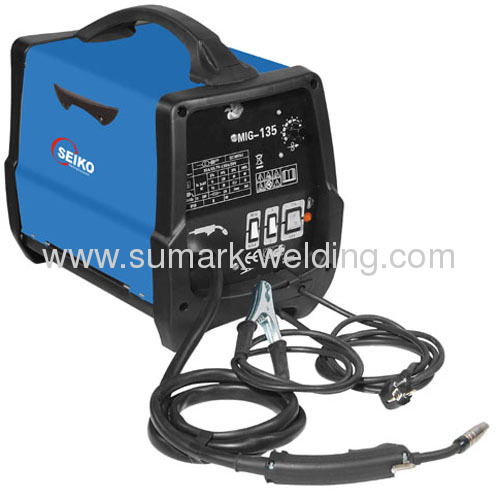 Portable MIG/MAG Welding Machine Gas/No Gas

Products Features:
1). Single phase DC ,weld in gas and gas mode.
2).Thermal overload protection .
3).Fan cooled for better performance.
4).4-step voltage contractor better welding heat control.
5).Stepless wire speed control, with electronic gas valve.
6).Supplied with MIG torch,earth clamp,helmet,brush and hammer,welding cable,contact tips.

MODEL

Rated Input Voltage (V)

Input Capacity
(KVA)

Current Range
(A)

No-load Voltage
(V)

Rated Duty Cycle
(%)

Protection Degree
(IP)

Applied Welding Wire(mm)

Insulation Class
(H)

Packing Size
(mm)

Weight
(Kg)

MIG-105P

230/1Ph

3.0

35-90

21-36

IP21

0.6-0.8

H

515*310*425

23.0

MIG-135P

230/1Ph

4.7

40-120

21-36

IP21

0.6-1.0

H

515*310*425

25.5

MIG-150P

230/1Ph

5.2

40-140

23-38

IP21

0.6-1.0

H

515*310*425

32.0