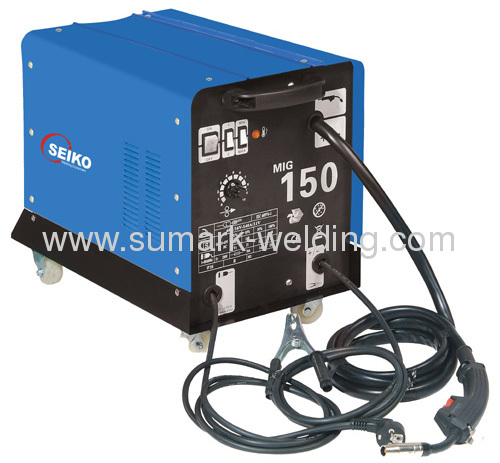 CO2 MIG/MAG WELDING MACHINE WITH GAS/NO GAS

Products Features:
1). Single-phase, portable,fan-cooled wire welding machine for flux(no gas) and MIG/MAG(gas)welding.
2).Thermal overload protection,
3).4-step voltage contractor better welding heat control.
4).Stepless wire speed control, with electronic gas valve.
5).Suit for welding different types of materials such as steel,stainless steel.
6).Complete Accessories: MIG torch,earth clamp,helmet,brush/hammer,welding cable,contact tips.

MODEL

Rated Input Voltage (V)

Input Capacity
(KVA)

Current Range
(A)

No-load Voltage
(V)

Rated Duty Cycle
(%)

Protection Degree
(IP)

Applied Welding Wire(mm)

Insulation Class
(H)

Packing Size
(mm)

Weight
(Kg)

MIG-175

230/1Ph

6.3

40-160

23-38

IP21

0.6-1.2

H

610*370*450

36.0

MIG-195

230/1Ph

7.5

40-180

23-38

IP21

0.6-1.2

H

610*370*450

37.0