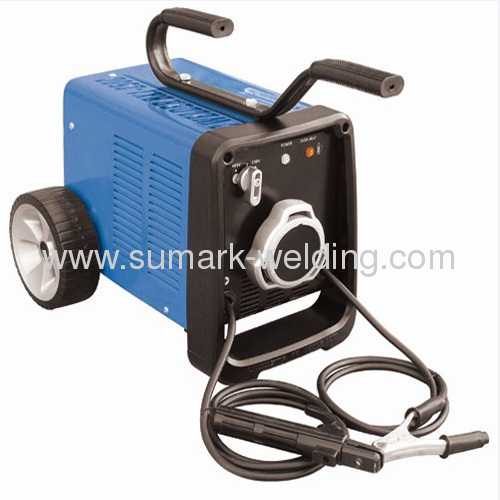 Transformer Type MMA ARC Welder

Products Features:
1).Single-phase, on wheels, fan-cooled stick electrode welding machine for MMA welding.
2).MMA welding in alternating current (AC). Stepless regulation of welding current. With thermal protection.
3).With unique design plastic panel, transformer struction, suit for MMA family use of Electrodes Welding.
4). Complete welding accessories: Electrode holder, earth clamp, welding cable, brush/hammer, Welding mask.
MODEL

Rated Input Voltage (V)

Input Capacity
(KVA)

Current Range
(A)

No-load Voltage
(V)

Protection Degree
(IP)

Usable Electrode(mm)

Insulation Class
(H)

Packing Size
(mm)

Weight
(Kg)

BX1-140C1

230/1Ph

5.0

50-140

48

IP21

1.6-3.2

H

510*270*335

15.0

BX1-160C1

230/1Ph

6.2

55-160

48

IP21

1.6-3.2

H

510*270*335

17.0

BX1-180C1

230/1Ph

7.0

60-180

48

IP21

1.6-4.0

H

510*270*335

19.5

BX1-200C1

230/1Ph

7.5

65-200

50

IP21

2.0-4.0

H

510*270*335

20.5

BX1-250C1

230/1Ph

10.0

70-250

50

IP21

2.0-5.0

H

510*270*335

22.5