Brief introduction:
Multi-point Electric Grease Lubrication Pump With 36 injectors DDB36 Type are suitable for the lubrication frequency is very low, lubrication points not more than 50 points, the nominal pressure 10MPa multi –point line grease lubrication system. Directly or via the singlet -piece to the oil lubrication points grease supply unit.
.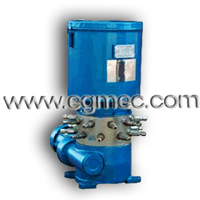 Multi-point Electric Grease Lubrication Pump With 36 injectors DDB36 Type is applying to grease lubrication of mechanical stand-alone devices, metallurgy, mining , forging , petroleum, chemical, power , light , gas furnace, grease is used in conjunction with the chip is available than use large unit lubrication points. Multi-point Electric Grease Lubrication Pump With 36 injectors DDB36 Type with the characteristics of safety and reliability and extend the useful life of equipment, to improve the working environment and simplify maintenance work, save manpower.
The technical information of Lubricating Equipment Pump:
Ordering code

Pressure (MPa)

Displacement, per day

(ml/time)

Oil supply (/min)

Tank volume

(L)

Motor power

(kW)

Weight

(kg)

DDB-10

10

10

0-0.2

13 times

7

0.37

19

DDB-18

18

23

0.55

75

DDB-36

36

80
Using the medium for the cone penetration of not less than 265 (25 ℃, 150g) 1/10mm the grease (NLGI0 # ~ 2 #). Working ambient temperature 0 ~ 40 ℃.
Lubrication Pump Equipment: DDB-10, DDB-18, DDB-36.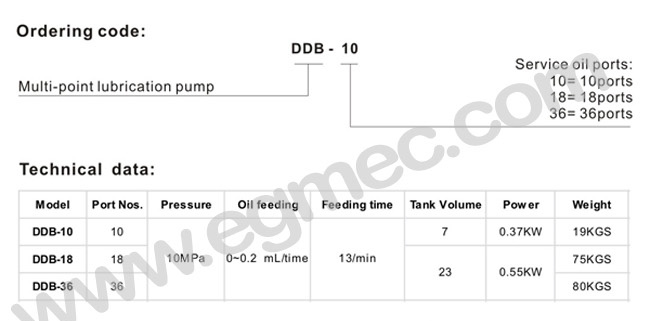 How to use Lubricating Equipment Pump:
1. The series of
Lubricating
Equipment Pump
should be installed right at ambient temperature, dust a small, easy to fill fat, adjustment, inspection, maintenance and so convenient occasions.
2. DDB series of lubricating equipment pump using the box before the start of a slowdown by adding HL-20 gear oil to the oil standard provisions of liquid.
3. To the Lubrication Pump oil storage device must be used within the lipid supplement SJB-D60 hand-pumps or DJB-200 electric fuel pumps fuel from the oil storage device port to join, pay attention to the inside of an oil storage grease are forbidden to start the motor without operation.
4. According to storage barrels to spin the walls of the spiral to the licensing requirements for electrical wiring, shall not be reversed.
5. Filling the mouth of filter accuracy of not less than 0.2mm, should be regularly cleaned.
6. Dry pumps should always be kept clean, non-fat uncovery fill dirt into the pump body so as not to affect the normal work.