Product name:
KU-Band Twin output Universal Satellite LNB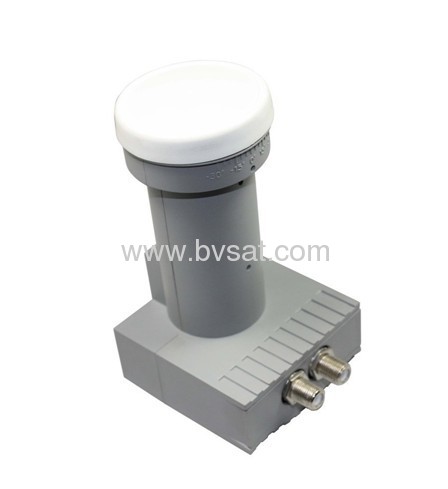 Model Name: LK21D

Feature:
Twin output LNB.
For individual and multi-satellite systems.
Input frequency range from 10.70 GHz ~ 12.75 GHz.
Output frequency range from 950 MHz ~ 2150 MHz.
Various input frequency range and L.O. for world-wide market.
Low phase noise for analogue or digital reception.
Voltage-controlled H/V switching (13/18 V)
Excellent D.R.O. stability
Compact tooling
Best solution for individual and multi-satellite systems
Specification:

ITEM

LK21D

Input RF Frequency Range

Low Band: 10.7 - 11.7GHz;High Band: 11.7 - 12.75GHz

Output Frequency Range

Low Band: 950 - 2050MHz;High Band: 1100 - 2150MHz

Noise Figure

0.5dB(TYP) 1.0dB(max)

Conversion Gain

60dB(TYP) @25℃55dB(min)

Output Power

0dB (Min.)

Output Return Loss

8.0dB(2.3:1)

F/D Ratio

0.6

Input Reflector Type

Offset

Image Rejection

40 dB (Min.)

Cross Pol. discrimination

20 dB (Typ.)

Gain Flatness

4.5dB(Over Band )

L.O. Frequency

Low Band: 9.75GHz;High Band: 10.75GHz

L.O. Stability

±1.0MHz@25℃ ;±3.0MHz @-40℃~ +60℃

L.O. Phase Noise

-40dBc/Hz (1kHz Offset)

-60dBc/Hz (10kHz Offset)

-80dBc/Hz (100kHz Offset)

Polarization Selection

V : 11~14V DC; H : 16~19V DC

D.C. Current Consumption

150mA(TYP) 180mA(Max)

Output Connector

75ΩF type female

Operating Temperature

-30 ℃to +60 ℃

Dimension

60*100*125 mm

Carton Size/ Quantity

52*32*27 cm / 50 PCS