Medical diagnostic rapid test kit:
HCG Pregnancy Test

Specification:

1) Specimen: Urine, Urine/Serum
2) Format: Strip, Cassette, Midstream
3) Accurancy: above 99.6%
4) Sensitivity: 10~25miU/mL
5) sizes: 2.5mm, 3.0mm, 4.0mm, 5.0mm, 5.5mm, 6.0mm
6) One kit includes 1 test (with desiccant) in a foil pouch
Key Fetures:

Easy to use
Easy to read
Able to test any time at any place
Detect pregnancy as early as 1 day after the missed period
Room temperature storage
The One Step hCG Pregnancy test is a rapid test to detect the presence of HCG in urine or serum specimens in a qualitative format sensitive to 25mIU HCG/ml. The test utilizes a combination of monoclonal and polyclonal antibody reagents to selectively detect elevated level of HCG in urine or serum. The immunological specificity of the test virtually eliminates cross reactivity interferences from the structurally related glycoprotein hormones hFSH, hLh, hTSH at physiological levels.
Recommend Standard Sizes & Packaging(cm)
Type
Pouch/cm
Box/cm
Package
Ctn size
Strip
11.5*5.5
12*11*5.7
50T/box, 100boxes/ctn
58*26*59
Cassette
12*6
24.5*12.2*7.5
50T/box, 50boxes/ctn
65*50*40
Midstream
18*5.5
18.5*6*1.5 for 1T
10T/plastic pack, 400T/ctn
63*39*42
OEM MOQ for each type:
1. Pouch: 50,000pcs(Print mould cost:USD100 per color, charge in 1st time only)
2. Box: 1,000pcs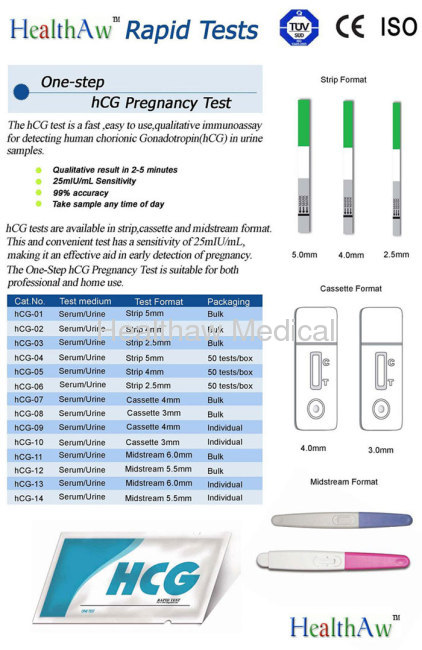 HCG Pregnancy Test/HCG STRIP/HCG CASSETTE/HCG MIDSTREAM