Brief introduction:
The 400bar/5800psi High Pressure Lubricating Grease Pump are suitable for lubrication points, with a wide range of distribution, to the high frequency of grease, nominal pressure 40 (20MPa) in single or dual-line dry ( lean) oil lubrication system, as a lubricant supply device can also be equipped with a mobile trolley oil, hose, oil gun and cable mobile electric lubrication pump device for use in low frequency, less lubrication points to the large amount of oil and not easy to centralized lubrication stand-alone device, move to the grease , the grease storage barrel set grease level automatic alarm device, if accompanied by a corresponding electrical control box also achieve automatic control and monitor the system.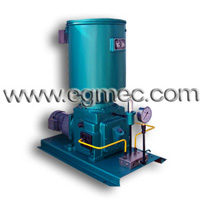 400bar/5800psi High Pressure Lubricating Grease Pump
Ordering code:
HB – P 200 G - A
HB= Lubrication Grease Pump
P= 400bar ; D= 200bar
200= Grease feeding: 200mL/min; 400mL/min; 800mL/min
G= Medium: Grease
Outline type= A type; B type; C type; D type
Technical data:

Model

Pressure

(bar)

Grease feeding (mL/min)

Reservoir

(L)

Motor power

(kW)

Voltage

(V)

Weight

(kg)

HB-P200Z

400(200)

200

60

1.1

380

280

HB-P400Z

400

60\100

328

HB-P800Z

800

100

2.2

405
The use of medium for the cone penetration not less than 220 (25 ° C, 150g) 1/10mm grease (NLGI0 # ~ 3 #) not less than N68 lubricant viscosity grade.
400bar/5800psi High Pressure Lubricating Grease Pump of HB-P series Outline Dimensions: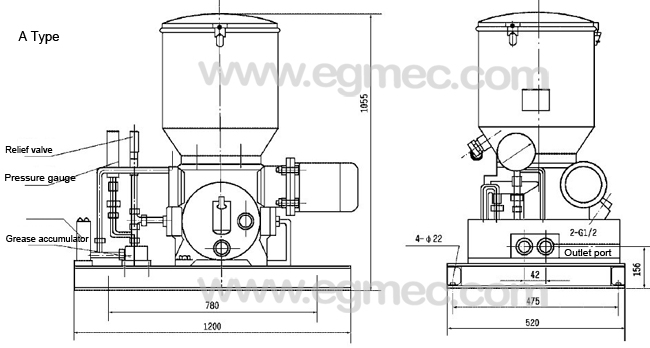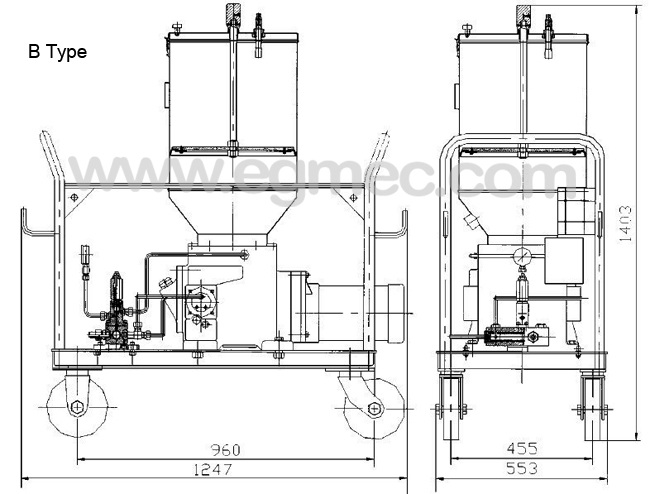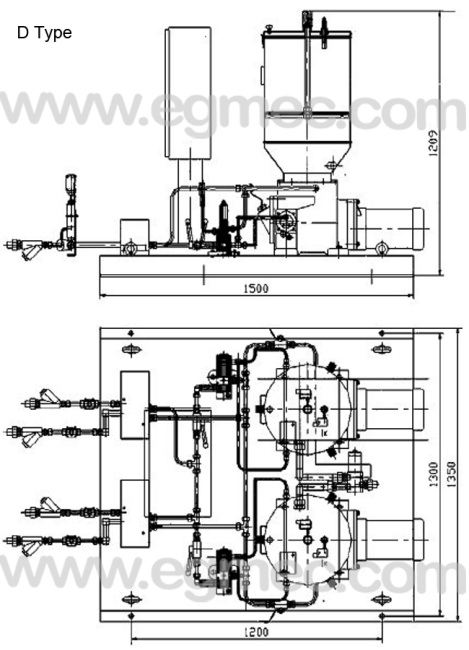 How to use the HB-P series 400bar/5800psi High Pressure Lubricating Grease Pump:
1. Lubrication pump should be installed vertically and fixed for easy maintenance and less dust, and pay attention to the operating temperature range of -20 ° C to +65 ° C ambient temperature suitability pump.
2. The pump as installed in the lubrication system center position to shorten the system the length of the pipe, to maintain a minimum pressure drop, in order to ensure that the pump generates a pressure sufficient to overcome the back pressure of the lubricating points.
3. The motor shall rotate in a clockwise direction
4. The pump must use clean grease, lubricant containing impurities is often the main reason for failure of pumps and system, use electric pumps to the grease storage tank supplemental lubricant from electric lubrication pump grease filling port. Pump before initial filling grease, a good idea to add some lubricants, liquid lubricants will be filled with all the parts, is conducive to exclude air. The lubricating parts if not use lubricant, the pump must be running to grease reaches the end of the pipe until the presence of air.
5. Gear box should be filling 50 # mechanical standard indicated level before the grease pump operation.
6. The pipelines, especially from the pipeline to the oil to the lubrication points and lubricating parts bearing should advance filled with lubricating grease, and then install it.
7. The HB-P series of electric lubrication pump is available for indoor installation, protection way must be taken to use the outdoor or harsh environment applications..