GLASS BASIN RENOVATIONS SEEK:
Model
BL-765L
Material
S.S 304#
Surface


Thickness
8mm
Outline DIM
1160*500mm
Installation DIM
1140*480mm
Depth
200mm
Bowl DIM
400*340mm,398*398mm
PACKING
1PC/PLASTIC BAG,PLASTIC FOAM BOX PROTECT WITH INDIVIDUAL CARTON
GLASS BASIN RENOVATIONS SEEK are highlighting the temperament of the "fashion". Product flatness, the curvature of each of the bowl, are demanding in the details, so you can enjoy the ultimate in quality of life.. With fine countertop. Bolang focus on flatness, curvature of bowl, and every details, makingyou enjoy highly taste full life. This series has three main aspects of specific characteristics. Firstly, with four small angle, stylish design makes its unique modelling. Secondly, the inside of the original material not easy to leave dirt. Super water saving technology can help you save a lot of money and resource. This is a new product with green and environmental protection. Last but not least, glass sink series reveals "modern style", owning smooth material, wonderful teture, and smooth shining drainer processing, which makes your kitchen bright all the time, so welcome to experience new kitchen filling with rich and colorful. Welcome to telephone to inquire and order, we will do our best to make you satisfied.

GLASS BASIN RENOVATIONS SEEK BOTTOM PROCESS: Firm rubber pads on bottom of bowl and drain for sound deadening and anti-vibration.
ACCORDING TO FOOD SAFETY STANDARD.
APPLICABLE STANDARD: EN13310 : 2003 ( CE CERTIFICATE )

GLASS BASIN RENOVATIONS SEEK PRODUCTS FEATURE:
THE NEWEST ONE-PIECE DESIGN
COMPLETE ACCESSORIES AND EASY OPERATION
ECONOMIC AND PRACTICAL AND HIGH FLATNESS
REMARKABLE POLLUTION RESISTANCE MAKES CLEANING EASIER
ANTI-CORROSIVE AND MOISTUREPROOF
NO WATER MARKS, NOT EASY TO SCRATCH
GOOD PACKAGING AND EASY TO INSTALL
TRIAL ORDER AND OEM ORDERS ARE WELCOMED


GLASS BASIN RENOVATIONS SEEK PRODUCT DRAWING: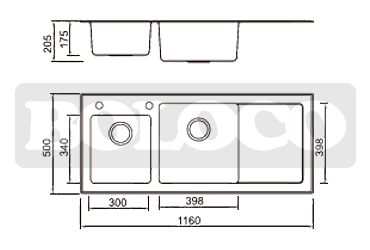 GLASS BASIN RENOVATIONS SEEK Surface Treatment:Matt







GLASS BASIN RENOVATIONS SEEK Installation Method:Glass






GLASS BASIN RENOVATIONS SEEK STANDARD INSTALLATION ACCESSORY:S.S DRAINER, SIPHON, CLIPS, SEALING STRIP.
SUGGESTIONS FOR SMALL ASSEMBLE PARTS AS FOLLOWS:
(CHECK ASSEMBLE PARTS SERIES FOR MORE DETAILS)







GLASS BASIN RENOVATIONS SEEK GLASS SINK'S PACKING: