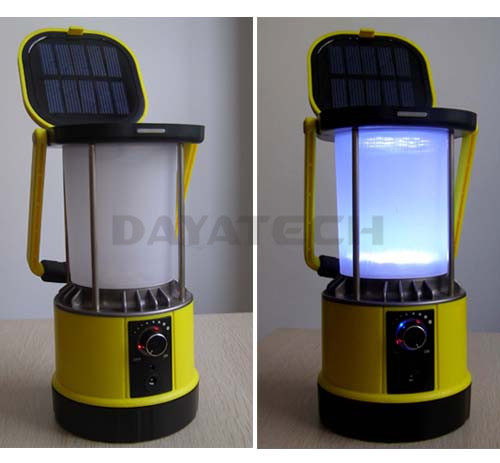 Solar power LED camping Light portable Lantern

Specification:
1. Solar Panel: Maximum power 2.2w ,
2. Battery: 5pcs 1.2v/1800mAh Ni-MH rechargeable battery,
3. Lighting Source: 8pcs super bright white LED,Adjustable brightness from 0~100%
4. Input: Sunlight/AC
5. Charging function Output:DC6V
6. Charging Time: Solar panel 6-8 hours under sunlight;AC 2 hours
7. Working Time: 6-8 hours
8. Accessories:AC Adapter(Optional) USB power cable(Optional)
9. Packing:
Box Size: 270 x 145 x 145mm,( 1pc /box)
Carton Size: 460 x 325 x 580mm, (12pc /carton)
Carton G.W: 16kgs
Feature:
a.Patent ,CE & ROHS;
Can be charged by sunlight/AC220V;
Can charge for all kinds mobiles;
Portable LED light with an integrated solar panel, easy to take and use;
Aluminum disk is good for heat spread from LED base;
Adjustable brightness to meet your lighting hours requirements;


The solar camping lantern is a very versatile form of solar powered lighting and handy tool. Actually, solar lighting of many kinds can be so simple to use, set up and store that one may be taken when traveling no matter you are camping out, hiking or different kinds of travel. When lights are needed when traveling a handy idea is the solar powered lantern or lamps. No fule is needed to use them nor will it be required to need to plug them in and there are no wires or batteries. To amke them light all that need to be done is to place the lamp or lantern in the sun light for a a couple of hours and then at night, turn it on. Many come with an automatic switch in order that this turn on as it gets darker at dusk as well as turns itself off at dawns light. A few solar lanterns are designed with a dolor light setting. Solar camping lanterns can be quite safe along with may be set indoors as well as outside.