LED Portable Mini Bed Reading Light Table Lamp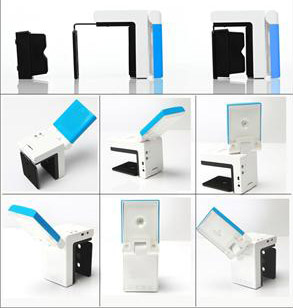 Specification:
LED: 1W High-quality LED
Power consumption: 2.5W(High) 0.6W(Low)
Luminous Flux: 100LM
Material: ABS-Metal
Adapter Input: 100-240VAC 50/60Hz 0.3A
Dimming Function: Two options
Input Voltage: DC 5V
Illumination Angel: 55°
CCT: 5000±325K
Size: 65*95*95mm
Adapter Output: 5v==500mA
CRI Data: >80
Vertical Adjust Beam Angle: 180°
Rotation Adjust Beam Angle: 270°
Working temperature: -20℃- 50℃
IP Degree: IP20 non-waterproof
LifeSpan: >30,000Hours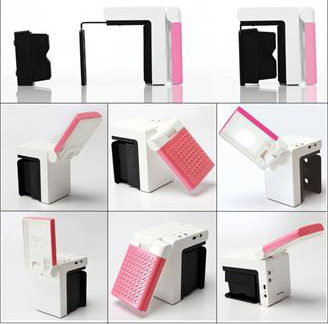 Part Name:
Features:
1. High quality LED light source, High luminous efficacy. Foft light output, no dazzling.
2. Gradual 2-step dimmer control, smooth and confortable variation of light output.
Ugradually light dimmer and control design, the light changes gently, flicker free and shielding your eyes, Bright light could meet the lumination needs when you are reading and writing, low light could be sued as bedside light or fun light.
3. 1 hour timer switch, humanity design, energy-saving and safe.
When the light is on, flick the delay button, the red indicator light up, meaning the reservation success. You can be worry-free if you fall asleep with weariness after a lot of reading. Forgetting to turn off the light, it's both energy saving and safe.
4. Diverse profiles of housing, free angle adjustment, work as illumination together with funny enjoyment.
It has variety of body shape, that is, it can be placed and rotated according to your wishes, adapting to mobile lighting in different environments. You can enjoy fun and lighting at the same time.
5. Battery compartment is compatible with dry battery and lithium battery. Work as portable lighting in outdoor application.
6. Innovative and unique heat sink design, upwards and downwards cross-ventitation, low temperature and surface of lamp.
7. Back locking clamp, suit different beds, shelves and screens with flexible thickness ranging from 15mm to 55mm.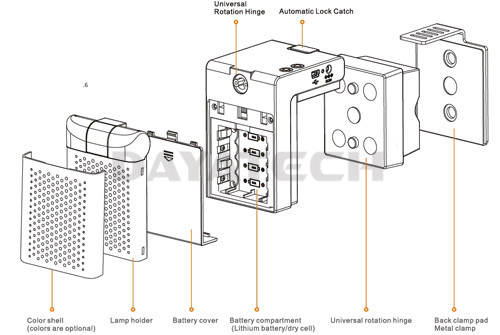 Multiple power supply modes:
1. Power adaptor input 100-240V AC Output DC 5V 500mA
2. Lap-top computer/Portable power supply DC 5V 500mA
3. Lithium battery supply (Model of battery is NB5L, compatible with many types of battery using in Canon camera)
4. AAA dry battery or AAA rechargeable battery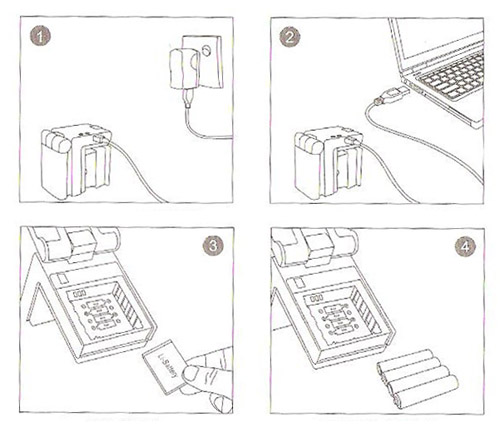 Installation:
Can install on bed shelf (plate type or tubular type)
15-35mm thickness: Use pad sleeve
35-55mm thickness: No need pad sleeve

Accessories:
Power adaptor
USB Data Cable
Lithium Battery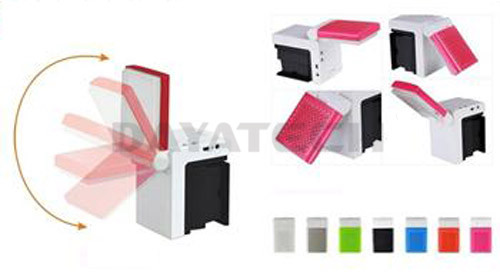 Applications: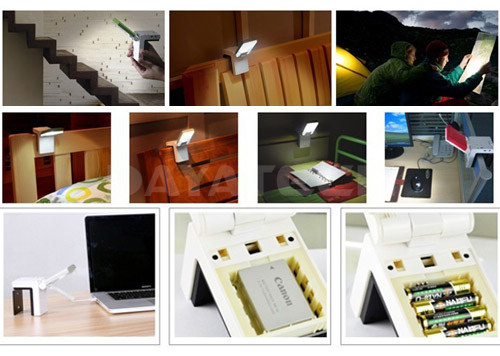 Packing:
Inner box: 110*110*110mm Weight: 0.5kgs
36PCS/CTN
Outer carton: 455*370*345mm Weight: 18kgs