Heavy Weight HDD Drill Pipe
The HDD drill pipe is the most widely used. The pipe our company produces is mainly upsetted and thicked. The material of the pipe body is R780 or the high grade steel after hardening and tempering and the material of joint is generally 37 CrMnMo or 42 CrMo. OD of pipe body is between Φ 50-Φ 140. We can provide all kind of products according to customer requirements.
Drill rods for HDD machine. High strength, high tenacity, high elasticity. Dia from 42mm to 140mm. Length from 0.5m to 9.6m. Steel grade: E75/R780,G105,S135 We can make the drill rods for Vermeer,Case,Ditch Witch, Drillto, Gudeng, Xugong HDD machines, such as D16X20, D24X40, D50X100, D75, D80, D100, D130, JT1720, JT2720, JT2720 March I, JT4020, JT7020, API NC23-NC50, etc.
| | | | | | | | | | |
| --- | --- | --- | --- | --- | --- | --- | --- | --- | --- |
| OD of PipeBody | Thickness of Pipe Body | Length of drill box | OD of Pin and box | Steel Grade | Thread type | Rated torque(E-75) | Rated pull(E-75) | radius of curvature | Weight |
| mm/in | mm | mm | mm | | Type | N.m | KN | m | KG |
| 50/1.9" | 6.5 | 1500 | 53.5 | EXGS | BW | 4000 | 180 | 40 | 13.5 |
| 50/1.9" | 6.5 | 2000 | 53.5 | EXGS | BW | 4000 | 180 | 40 | 17 |
| 50/1.9" | 6.5 | 2500 | 53.5 | EXGS | BW | 4000 | 180 | 40 | 20.5 |
| 50/1.9" | 6.5 | 3000 | 53.5 | EXGS | BW | 4000 | 180 | 40 | 23.5 |
| 60/2-3/8 " | 7 | 2000 | 68 | EXGS | BW | 7000 | 250 | 50 | 23 |
| 60/2-3/8 " | 7 | 2500 | 68 | EXGS | BW | 7000 | 250 | 50 | 27.5 |
| 60/2-3/8 " | 7 | 3000 | 68 | EXGS | BW | 7000 | 250 | 50 | 32 |
| 60/2-3/8 " | 7 | 4500 | 68 | EXGS | BW | 7000 | 250 | 50 | 45.5 |
| 73/2-7/8 " | 8 | 2000 | 78 | EXGS | NC23 | 11000 | 350 | 65 | 32.5 |
| 73/2-7/8 " | 8 | 3000 | 78 | EXGS | NC23 | 11000 | 350 | 65 | 45 |
| 73/2-7/8 " | 8 | 4000 | 78 | EXGS | NC23 | 11000 | 350 | 65 | 58 |
| 73/2-7/8 " | 9 | 3000 | 88 | EXGS | NC26 | 11000 | 350 | 65 | 54 |
| 73/2-7/8 " | 9 | 4500 | 88 | EXGS | NC26 | 11000 | 350 | 80 | 75 |
| 89/3-1/2" | 9.35 | 4500 | 92 | EXGS | 92 | 20000 | 500 | 80 | 98 |
| 89/3-1/2" | 9.35 | 4500 | 97 | EXGS | 97 | 20000 | 500 | 80 | 100 |
| 89/3-1/2" | 9.35 | 6000 | 97 | EXGS | 97 | 20000 | 500 | 80 | 127.5 |
| 89/3-1/2" | 9.35 | 4500 | 105 | EXGS | NC31 | 20000 | 500 | 80 | 108 |
| 89/3-1/2" | 9.35 | 6000 | 105 | EXGS | NC31 | 20000 | 500 | 80 | 135.5 |
| 89/3-1/2" | 9.35 | 6000 | 123 | EXGS | NC38 | 20000 | 500 | 80 | 152 |
| 89/3-1/2" | 9.35 | 9600 | 123 | EXGS | NC38 | 20000 | 500 | 80 | 218 |
| 102/4" | 10 | 6000 | 123 | EXGS | NC38 | 30000 | 750 | 90 | 180 |
| 114.3/4-1/2" | 10 | 6000 | 127` | EXGS | NC38NC40 | 40000 | 1000 | 100 | 212 |
| 127/5" | 10 | 9600 | 168 | EXGS | NC50 | 70000 | 1500 | 120 | 344 |
| 139.7/5-1/2" | 11 | 9600 | 192 | EXGS | 5 1/2"FH | 120000 | 3000 | 140 | 430 |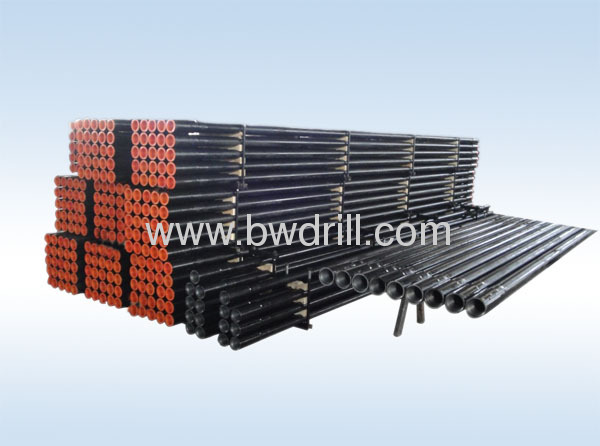 Heavy Weight HDD Drill Pipe