farm equipment of Intelligent flowerpot

New office indoor potted flowers plant organic vegetables miniascape flower basket

Mocle Farm brand and Smart Garden brand sale in different countries.
What is Mocle Farm Smart Garden?

It is the combination of home decoration, electronics, high-tech agriculture

(No dirt, No mess,Very beautiful, Unique products)

Over 100,000 users

Function 1

As a flower pot

( Hydroponic technology )

Function 2

As a fish tank

(It can feed 3-6 small koi)

Function 3

As a table lamp

(Plant growth light 26 watts*2)

White light

Suitable seeds

Most of the dwarf varieties plants are suitable for growing.

(Not higher than 40cm),you can buy the seeds by yourself.

Seed pod device

7 units

(It can be grown seven kinds of the same type of plants)

Fertilizer

Custom solid fertilizers, easily dissolved in water.

(It provide polyculture fish and plant hydroponic fertilizer and eliminate will hurt fish composition, so it will not hurt the growth of fish.)

Product Specifications

Package Size: 460mm * 365mm * 325mm (length * width *height)

Product Size: 410mm * 300mm * 620 (460) mm(length * width *height )can be flexible, height

Product color

White/Black

Control Panel

It can be customized ((MOQ 500 pcs)).

OEM service

Provide OEM service

(MOQ 1000 pcs)

Agents wanted

General agents and exclusive agents (Designated Country)
Is MOCLE Farm the lamp you figure? Is it grow vegetables in it? Is it the fish tank? I tell you, it is the lamp, vegetables machine, fish tank!
MOCLE Farm is the cross-border electronic products! You can fish in the fish tank, the product of the central device is a soilless culture, a variety of plants can be grown. Full-spectrum grow light can be used as a table lamp.
Successful cultivation of the plant list:
Most of the dwarf varieties plants are suitable for growing.
Fruits:Tomato,Pepper…
Salad:Lettuce,Water spinach, iceberg lettuce,Celery,Spinach…
Herbs:Basil,Coriander leaves ,Mint, Licorice…
Flowers:Gypsophila paniculata, Madagascar Periwinkle Herb, Impatiens, Begonia, Garland chrysanthemum ,Lavender,Chrysanthemum, Dianthus, Mary Flower, Seven Mile yellow, Hornsey ball, Campanula flowers, Hanabishi grass, Verbena, Snapdragons, Medals chrysanthemum, Petunia, Half-sticks lotus, violet, Blue in February, White clover, Dandelion, Thyme…
Strawberry:Strawberry
Transplanting plants: Hi water plant (strawberry , chamaedorea elegans, Zamioculcas, Scindapsus aureus…)
You just need to sown seeds in the growth base,plants began to auto grow.You can also transplanting plantsPlants need nutrients are from the fertilizer in the water.
You can fish in the tank, but do not feed too much food, avoid water pollution.
The top of the plant growth lamps can provide light to the plants, and can serve as a table lamp.
The plants need the water and the nutrients through the circulating pump to extract from the fish tank.
We use solid fertilizer, the plants can be provided a standardized method of fertilization,Fertilizer is divided into germination, growth, flowering period.
There are seven control panel,it is composed of different patterns. you can choose your favorite control panel
You can buy tools from Mocle Farm ,you can easily change the water.
MOCLE Farm will soilless cultivation techniques and the combination of organic electronics, has created a new market. Virtual network will grow vegetables, harvest them, become a reality. Can clearly see the process of plant growth and increase a playful element. It will bring your green life and work, to grow high-quality organic plants, fruits,flowers, both for human consumption, but also ornamental.
Mocle Farm can let your work with more fun and lifestyle products!
This product not only fashion but also save time and effort! It is only need get power then the plant began to grow automatically, it is needn't effort more for take care of it.
It is combine fish tanks, water culture, lamp as whole one product!
You can fishing in tank at the bottom and plant or transplanted at the central section plants panel, the upper part is can as a table lighting!
Fish happy swim and have edible plants growing!
Product Configuration:
Color: white + transparent color (whichever kind)
Package Size: 460mm * 365mm * 325mm (length * width *height)
Product Size: 410mm * 300mm * 620 (460) mm(length * width *height )can be flexible, height
can be adjusted
Weight: 6kg
Power: 220VAC/50Hz
Power: 60 watts
Fertilizer:solid
Control panel:7 kinds(options)(You can see attachments)
Growth Base: Configuring the base of 7 mini-train
Accessories: transparent smart pot, kind of training device, plant growth lights, supplied seeds
Intelligent Light System: artificial settings, adjust the exposure time intelligence, and promote plant growth.
Smart irrigation system: automatic circulation to the plant roots fertilization, watering.
Intelligent auto-suggest: when the faceplate is not enough storage capacity, fertilizer is not enough, the MOCLE Farm to remind the owner of the farm related to the liquid or fertilizer added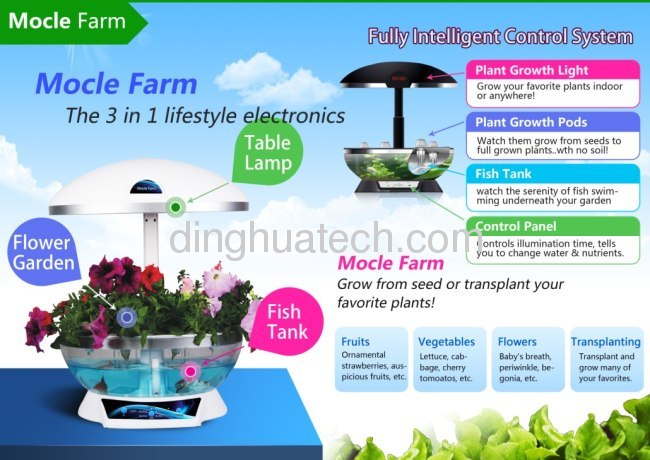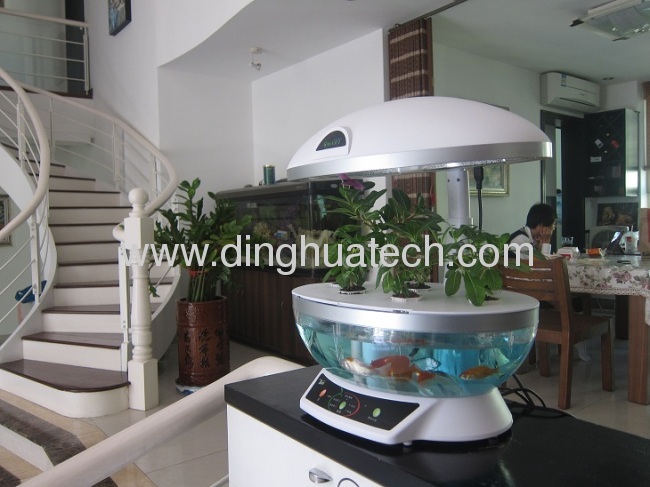 Company introduction

Company name: SHENZHEN DINGHUA COMMUNICATION TECHNOLOGY CO.,LTD.

Company description: Shenzhen Dinghua Teleommunication Technology Co., LTD. was established in July, 2003.It is a high-tech enterprise in product design, research & development, production and sales .
The company's main business including industry and civil telecommunication products and the related peripheral products. they`re including: mobile power supply products, energy saving, environmental protection and new energy power products, uninterrupted power supply products, car power supply products, android TV box, personal audio-visual electronic products, and cross-border electronic products.
The company has a number of core and have professional knowledge and practical experience for many years of product design and development team of engineers. The company also have many experts in production management, quality management ,marketing development and promotion .
On the other hand,the company have many of modern flow production lines, the specialized advanced production equipments , inspection, testing equipments and instruments.The company has passed ISO9001:2000 quality management system certification, many products have the certifications of CE, FCC, SAA and domestic CCC .
The products are sold to Europe, America, emerging economies and domestic market, won the widespread praises of the customers.

Competitive advantage:


Our company advantages in addition to price,including technical support.We have a strong research and devlopment team,so do not worry about product itself and our after-sales.

Factory picture for reference