Bamboo dinnerware chinese style bamboo chopsticks with paper wrapped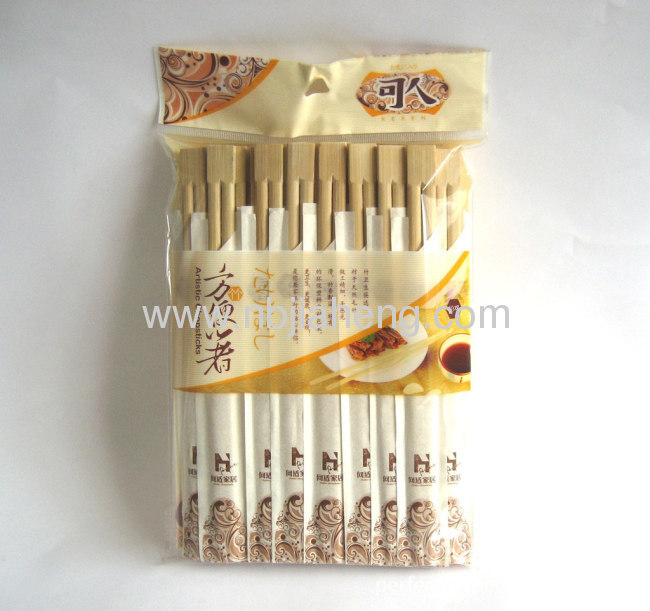 Specifications
1.Disposable,natural bamboo
2.paper wrapped with logo
3.chinese style and japan style
4.Quality Assuran

Bamboo dinnerware chinese style bamboo chopsticks with paper wrapped
Disposable bamboo chopsticks. made by 100% natural bamboo.
kitchen wares,restaurant and hotel products.
semi or whole sealed paper wrapped.
lenth:21cm,23cm,24cm.
packed:2000pairs/ctn or 3000pairs/ctn
The logo printing is available
chinese style and Japan style are avaiable.
use for good grade
Commodity

Bamboo chopsticks

Color

White/natural

Material

High quality natural Mao bamboo

Specification

Single round chopsticks: 18cm*5mm 18cm*5.5mm 18cm*6.0mm 19.5cm*5.0mm 19.5*5.5mm 19.5*6.0mm 21*5.0mm 22*5.0mm 22*5.5mm

Twin chopsticks:21cm,23cm

Tensoge chosticks:21cm, 23cm

Inner Packing

Plastic packing, paper packing, Naked

Outer packing

3000pairs/ctn or 5000pairs/ctn

weave bag or carton

20'FCL(22CM*5.0MM)

450bags(5000pairs/bag)

40'FCL(22CM*5.0MM)

990bags(5000pairs/bag)

Usage

food, salad, BBQ

Payment terms

T/T L/C at sight

Delivery

It's up to your order

Remarks

Could produce as customer's design

prompt delivery and competitive price with high quality

Original certificate, such as FormA, E, F,CO, is offered
Bamboo dinnerware chinese style bamboo chopsticks with paper wrapped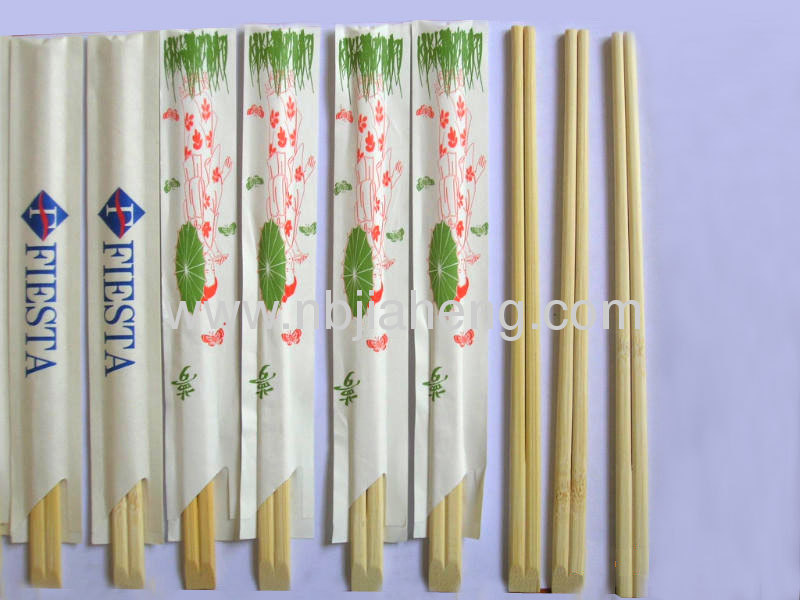 1.can be customized to suit your own style and size .
2.use for all markets
3.This product with high-grade bamboo as raw materials, after high temperature and high pressure processing, has no crack, no deformation, wear resistance, hardness and toughness as well as good to use health, smell was scented.
4.From the perspective of traditional Chinese medicine, the bamboo belonging to Gan for light, of cold, have certain inhibit bacterial reproduction.
5.Phyllostachys pubescens growth cycle fast, breed quickly, high yield.So it will not be damaged to Eco-environment ,Environment-friendly and renewable.
toothpick is made of bamboo chips, it's clean, natural for our health
What are the bamboo chopsticks?
Bamboo chopsticks are eating utensils made from bamboo, a member of the grass family which is famous for its woody stems. Chopsticks are used as the primary eating utensil in a number of Asian nations including Japan and China, and they come in a range of shapes, sizes, and styles. Bamboo chopsticks are extremely common, because bamboo is a cheap wood which is easy to obtain, and most disposable and inexpensive chopsticks are made from bamboo for this reason. Asian markets usually carry an array of bamboo chopsticks.


As a material, bamboo is rather unique. Although it is a grass, it produces very large stems which develop a woody texture. In the case of giant bamboo, the wood can be very close-grained and smooth. The color may range from light gold to brownish-black. Bamboo happens to be a great choice of wood for eating utensils because it is naturally antimicrobial and antifungal, so it will not harbor organisms which cause disease.
The most basic bamboo chopsticks are made with raw bamboo which has been trimmed into the shape of two sticks, which may be pointed or blunted, depending on the region they come from. Disposable bamboo chopsticks are classically made from a solid piece of bamboo which has been scored so that the user can break the chopsticks apart; to avoid splinters, some people rub the chopsticks against each other to smooth the wood.
If you are interested in any of our products or would like to discuss a custom order, please feel free to contact us.