Product name:Mori Girl Style Printed Cashmere Wool Scarf For Women Wholesale
Mori Girl Style Printed Cashmere Wool Scarf For Women Wholesale, made of 100% natural australian wool, ultra soft cashmere feeling, uxurious, abstract and bold digital printed charming oil painting, perfectly finished by high technology with the charming oil painting ,and scarf is versatile,there are many ways to wear it,this cashmere wool scarf will Incisively and vividly show your elegant and noble

| | |
| --- | --- |
| Material | 100% natural australian wool |
| Size | 70×190 cm |
| Weight | 200.00 g |
| Shape | Oblong |
| Type | Cashmere Wool Scarf For Women |
| OEM | If you didn't see what you want, please sent us an e-mail. We can probably make it for you. |
| Capability | 100% physical picture,Top Quality, Large Stock, Qiuck Shipping, |
| Lead time | Usually it need only 2 -5 working days after receiving payment, for large quantity and OEM orders, it is about 15-25 working days. |
| Delivery | 10~21 days by standard airmail 7-10 days by EMS express. |
| Package | opp plastic bags to boxes or as your requests. |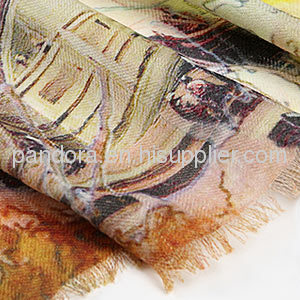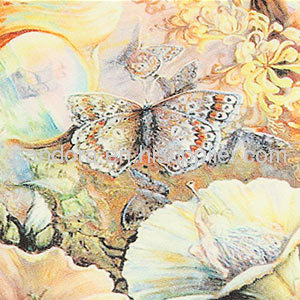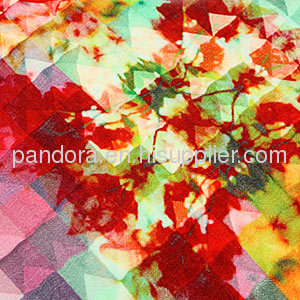 This woodland faerie of a sun strewn forest shade of woodbine green inspired mori girl style pashmina scarf cashmere shawl scarves are the in fashion scarf in Mori Girl Style Fashion jewelry. Made of 100% natural australian wool, the softest cashmere feeling, and with the luxurious, abstract and bold digital printed charming oil painting, will be the eye-catching element for you. showing graceful as the scarf, and charming as the pashmina shawl scarves. Material: natural australian wool;Size: About 70×190CM Shape:Oblong; Craft: Digital Printed;Design pattern:the original Oil painting and Abstract art pattern;Style: Woman;Season: Spring/Autumn/Winter; Hemming: Machine hemmed;
Delivery by DHL, TNT, EMS etc, delivery time is 3~15 days.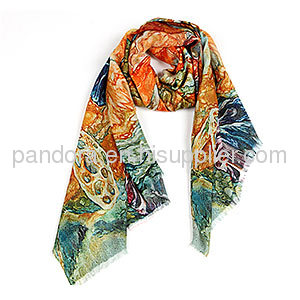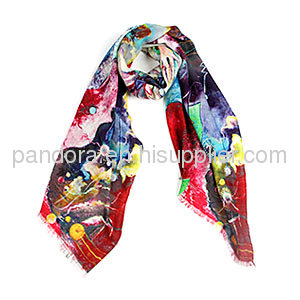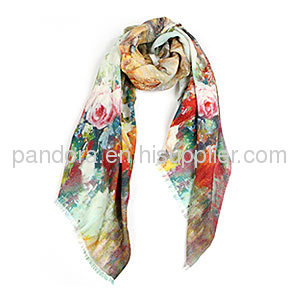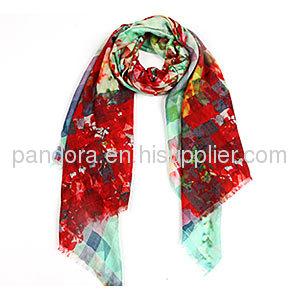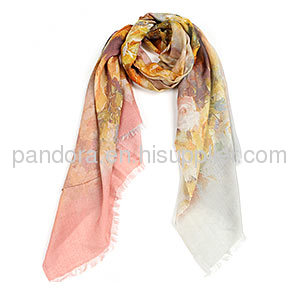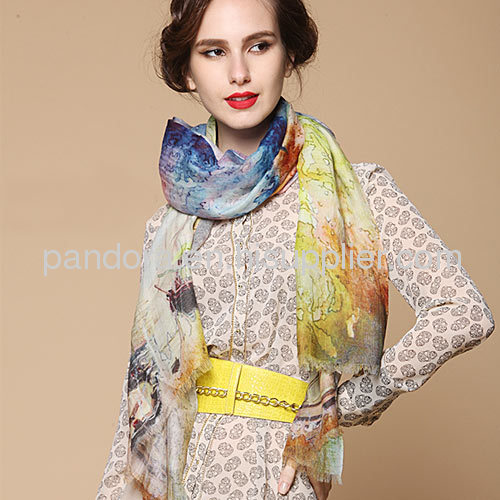 European Rural Pashmina Scarves:






Mory Girl Style Pashmina Shawls: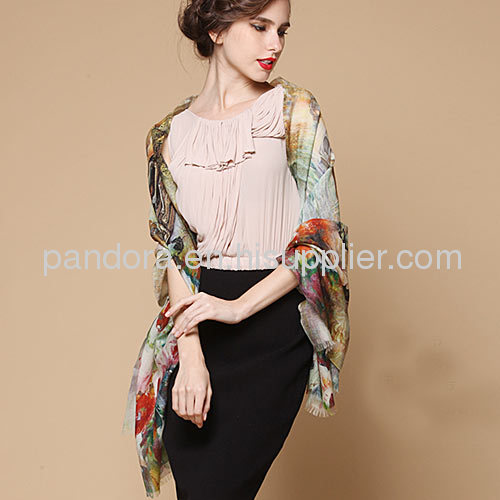 Office Lady Pashmina Shawls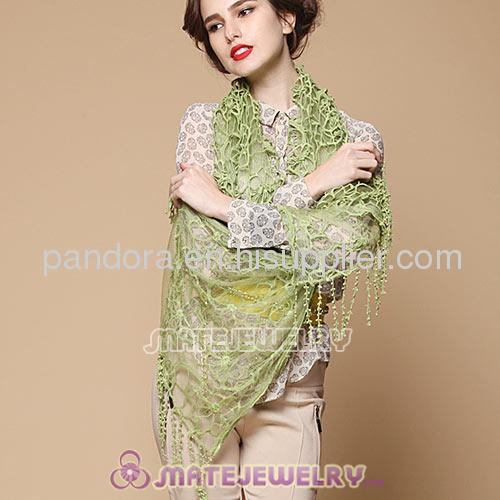 How To Wear A Pashmina Shawl
Wear a pashmina scarf on your head
This is a classic look from the Far East, and you can wear it in this way on a windy day to keep your hair in place. Wrap it around your head and tie it in front to secure it.
Wear it as a simple scarf wrapped around your neck.

Let the ends of the pashimna shawl hang behind you and leave the scarf tied around your neck for a simple but elegant look.

Wear it as a shawl.
The most common use for a pashmina is to wear it as a shawl. If you're cold or just merely want to cover up a little bit, the pashmina is perfect. Wrap it around your shoulders and secure it by either tying it in the front or allowing it to drape down.
Double up your pashmina shawl with a secondary color.
Create a two-toned effect by twisting two pashmina scarves together. This works especially well for evenings when you want to add some drama to your look.
Wear a pashimna shawl as a sash.
You can wrap the pashmina across your body diagonally and tie it at the side to create a sash. This is an elegant touch for the evening and works especially well with a dress or skirt.
Wear a pashmina scarf as a classic scarf.
Wear the pashmina around your neck with one end over your shoulder. This adds a touch of color to your neckline, and one side can be left hanging down.
Tie your pashmina into a parisian knot.
This classic look is very easy to create with a pashmina scarf; just tie the scarf in front of you and let the end hang down. This is a casual look that works well for day or night.
Wear a pashmina scarf as a tube top.
A pashmina can double over as a tube top on those warm summer days. Fold your pashmina in half horizontally. Depending on how large your pashmina is, you might have to fold it again or fold it into thirds. Wrap it around your chest and secure it by tying it in the back.
Wear a pashmina shawl as a belt.
You can wear the pashmina scarf around your waist and let one side hang down; it's a modern twist that makes a great accent to a simple outfit.
Wear your pashmina shawl as a knotted shawl.
Instead of wearing the scarf as a classic shawl, wrap it around your shoulders and tie it in front. This is an elegant variation of a simple look and adds a feminine touch to your outfit.
Create a ladylike shawl out of the pashmina shawl.
This is the 'original' pashmina look that has been worn for decades. Wear the pashmina as a shawl to accent a sleeveless dress or top for the evening.

Use lace scarves to complement an outfit.

A pashmina is a perfect accessory and comes in many different colors, so use a pashmina to complement your favorite suit or dress.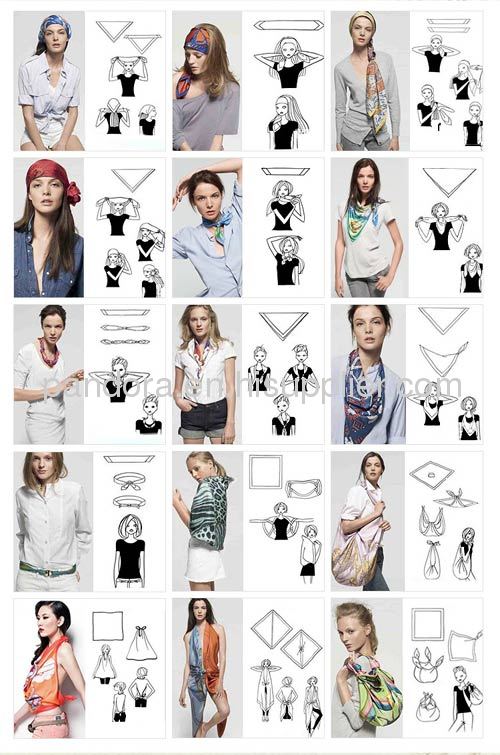 1. Fashion Designer Jewelry,Jewelry Sets,Earrings,Necklaces, Pendants, Bracelets, Bangle,Rings,Charm Beads,Eyelashes, Masks, Feather Hair Extensions, Hair Band/Clip,Other Jewelry;
2.CostumeJewelry,European Jewelry,european Beads Jewelry,Basketball Wives Jewelry ,Shamballa Bracelet Jewelry, J Crew Jewelry,925 Sterling Silver Jewelry,Crystal Jewelry,Pearl Jewelry,Alloy Jewelry,Wood Jewelry,Leather Jewelry,Feather Jewelry,Handmade Jewelry,Korean silk necklace Etc;
3.Cell Phone Accessories,Cell Phone Cases,Earphone Jack Plug Charm,Phone Speaker Amplifier Etc;
4.Silk Scarves,Pashmina Scarves,Shawls Etc
Hair Extension Kits, Jewelry component ,Jewelry supplies.
Customization Is Welcome!

Silk Scarves:


Some FAQs you may need
1.
HOW TO ORDER?

Normally we areabletosupplytheproductsaccordingtothepictureortherealsample.PlsclickPricingpageonlineformoredetails. Oryoucancontactusforthedetailinformation,thenwewilllet you if wecan.
2.Shipping Cost ?
Shipping costwilldependontheweightoftheorderandthedestinationcountries.wewillquoteyouthedetailshippingcostwhenreceiveyourorder.
3.
What about the Customs Fee?

Usually we declarethegoodsasSAMPLEorGIFTSandunderestimatethevaluefor the goods whenweshipthemtoyou,soyoudon'thave topay thecustoms taxor only pay alittleforit.
Buyer responsesfor(incase)alltaxorVATunderanycircumstances.Wewilldoourbesttominimumtherisk.However,thefinaldecision isyourcountry'sCustoms.
4.
Discount policy?

Discount 4% when your order amount over $1000.USD;
Discount 8% when your order amount over $2000.USD;
Discount 12% when your order amount over $5000.USD;
More than order over 10,000. USD, Please contact us with your detail order to negotiate and arrange produce and lead time etc.
Tips: Total amount exclude shipping cost.
5.Payment Methods ?

Usually we accept Pay via PayPal , Western Union and Bank Transfer (T/T).
1. PayPal : Pls notice us after you send payment to our PayPal account.
2. WesternUnion:PlsgivetheMTCN(MoneyTransferControlNumber),sendername,receivernameafteryoudonethepayment.Wewillgo to getthe paymentand shipthegoodstoyouASAP.
3. BankTransfer(T/T):Plssenduscopyofthebanktransferconfirmationaccessoryafteryoudonethepayment,thenwecouldarrangeyourgoodsinadvancebeforereceiveyourpaymentinourbankaccount.
Note: Customer need pay all the bank charges.
6.Transport
(Fast delivery for wholesale from China
We useFedEx,DHL,andUPS...,fromChinatomajordestinationslikeUS,Europe,Australia,etc.onlytakes2to5days.Forbulk order,youcanselectairfreightorseafreight,Theyarecheaper.


For more details pls directly visite our Matejewelry online store.