a. Paper range: mid-range and high-grade toilet paper
b. Raw material: waste paper, waste newspapers, white shavings, wood pulp
c. Grammage: 13—40g/m2
d. Paper width: 787mm -900mm
e. Wite width: 1100mm
f. Daily production: 0.8-1.0t/d
g. Gauge: 1300mm
h. Drive mode: gearing-down, with type250 reduction box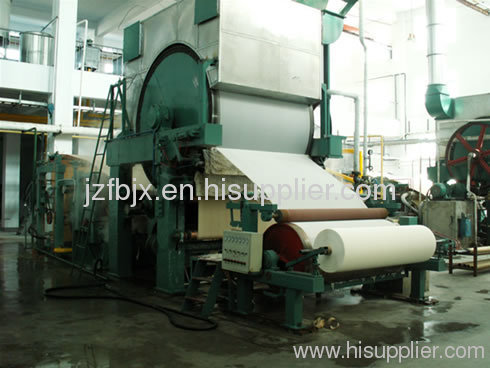 As a famous domestic papermaking equipment enterprise, Jiaozuo Fubei Papermaking Equipments Co., Ltd. was founded in 1962 and enjoyed a 50-year manufacturing history. The company covers an area of 3, 5800 m2 as well as 20,000 m2 building area. Currently, there are more than 200 staffs, 20 of whom are medium and senior technicians as well as more than 300 sets of molding, processing and inspection equipments in our company. It possesses fixed capital of 30,000,000 Yuan as well as working capital of 25,000,000 Yuan. As one of the specified papermaking and products manufacturers of the Henan Province, our company is an affiliated company of Xi'an Papermaking Equipments Factory (Xi'an Weimeide Papermaking Equipments Co., Ltd.) of the Ministry of Light Industry of China. Since 1987, the company has been awarded as "A Star Enterprise" and "Contract-observing and promise-keeping" advanced unit for years, and was checked and certified as "Total Quality Control Qualified Enterprise" by the Agriculture Department of P.R.C. in 1994.

Components of Paper Machine:
1. Back roller: it is a part of clockwise starching machine. It is called back roller cause it deliver the blanket backward to dehydration and dry.
2. Headbox: making pulp. The rotating cylinder mould can make pulp to wet paper by means of downstream, or upstream, or step diffuse etc..
3. Coucher: wet paper, which is made by cylinder mould, will be squeezed and dehydrated by coucher, and shaped up.
4. Suction box: which is also called vacuum box, which is connected by vacuum pump.
5. Wringer roll: it is used to wring the blanket, in case that wet paper will be taken away by blanket on cylinder mould.
6. Prepressing roll: dehydrate 10%-15% when wet paper goes through it. Mainly used in cardboard and thick paper.
7. Press roll: dehydrate 35%-40% when wet paper goes through it.
8. Supporting roller: the dry blanket on supporting roller will carry the wet paper to dryer cylinder, which will dry the paper.
9. Dryer cylinder: the steam in the cylinder can make the surface temperature to 115-120°C, which can dry and shape up the paper. (the steam is come from the boiler)
10. Guide roller: support, guide the blanket.
11. Tighten blanket: tighten the blanket.
12. Adjust blanket: adjust the blanket when deviating