Picture of
Servo Motor Neodymim Magnets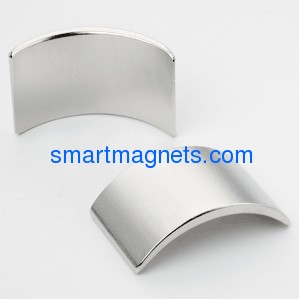 1.Marerail: sintered ndfeb
2.Coating:Zn Ni epoxy.
3.Made by customers' requirements
Servo Motor Neodymim Arc Magnet, RARE EARTH MAGNET: ( HS Code : 8505111000 )
1. Meterial: Neodymium, NdFeB
2. Technology: Utilizes new Sintered NdFeB magnet techniques and equipment such as strip casting, HDDR technology
3. Magnetic properties: High coercive force, the max operation temp is up to 200 degree centigrade or 380 curie temperature;
4. Grades of
Servo Motor Neodymim Magnets
: N33-N52, 33M-50M, 33H-50H, 30SH-48SH, 30UH-42UH and 30EH-38EH, 28AH-35AH;
5. Shapes and sizes: Various kinds or according to customers' request.
6. Coatings: Ni, Zn, Phosphating, epoxy and so on;
7. Applications of
Servo Motor Neodymim Magnets
: Widely used in different applications, such as sensors, motors, rotors, wind turbines/wind generators, loudspeakers, magnetic hooks, magnetic holder, filters automobiles,doors and so on.
8. Quality Control : Our QC team has been in existence for more 13 years , they has gotten rich experience to make 100% guaranteed in quality.
9. Extreme Power Warming :
Servo Motor Neodymim Magnets
are dangerous ! If your fingers are trapped between two they will cut your skin . Please be note they should only be handled with great care.
10. Transportation : All available shipping ways could be applied ,by courier ,by air or by sea . Appinted shipping company or our own forwarders all could be used in shipment . Full-way tracking the cargos for you before th good arrival.
Brand Name: SMARTm, Type: Permanent
Composite: Rare Earth Magnet Shape: Ball Application: Moto Magnet
Grade: 35SH Br: 1.17-1.22 T Hcb: 836-891 KA/m
Hcj: 1593 KA/m BH(max): 263-279 KJ/m3 Max temperature: 150