Brief introduction:
The Rexroth G66/01(G3/8, G67/(G1/2) series of NPT port single station subplate simplifies the machine pipeline, the design requirements to meet the requirements of the pipe assembly and piping, to meet the design requirements of the hydraulic system, and the installation costs usually a significant reduction.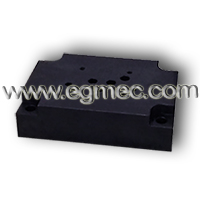 D05 Pattern Rexroth G66/01(G3/8) G67/(G1/2) NPT Port Single Station Subplate
Since the external leakage is usually the main reason for the limited application of hydraulic system, with the O-ring on the floor with our production of hydraulic valve hole just to eliminate external leakage of the valve block greatly reduced downtime. Replacement of component parts does not affect the pipeline , do not open the other parts, we not only produce conventional valve subplate support agents and customers to design, manufacture of valve subplates.

G66/01(G3/8, G67/(G1/2) Dimensions
:
Model

D1

ØD2

T1

Installation bolts

Weight

G66/01

G3/8inch

28

12

10.9class, M6-GB70-85

3.0KGS

G67/01

G1/2inch

34

14