Item No.:BB-1211


15M EVA Garden Coil Hose With Plastic Spray Nozzle include:
1 x 15M EVA garden coil hose,
1 x Plastic 7-dail function nozzle with soft grip,
2 x 3/8" snap in quick connector,
1 x 1/2"&3/4" BSP female thread tap adaptor.
Turn the head to adjust 7 type water pattern is Jet,Shower,Flat,Cone,Soaker,Mist,Center

Hose is with 8.5MM inner diameter,11.3MM outside diameter.working pressure is 6 bar,brust pressure is 18 bar

This garden coil hose can used with all leading brand garden hose accessory on the market

Coil hose rebound gently,avoiding damage to plant or children,Spring back neatly into place so need to wind and untangle




The garden hose is a tool that every home owner should have whether or not they own a personal garden.The garden hose can be used for many work,not only water plants or flowers in the garden,also can be as essential tool in many outdoor maintenance projects for every home owener as gutter clearing,power washers,sprinkler system,car wash,and more.

The garden coil hose is one of garden hose,it look like spring.When we use it,we can pull it to straight to irrigate or wash something.after work,we only release it,the hose will recoil to original state as spring.It can save the stock place and prevent the hose from kink and tangle.

~~~~~~~~~~~~~~~~~~~~~~~~~~~~~~~~~~~~~~~~~~~~~~~~~~~~~~~~~~~~~~~~~~~~~~~~~~~~~~~~
Hose Nozzle Detail: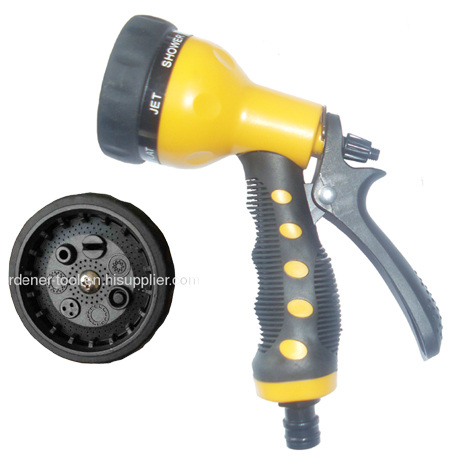 The garden hose nozzle with garden coil hose is best popular garden spray nozzle currently,it have streamline and ergonomical shape,people can take a good and comfortable feel when take it,give us a good feel when work.


The hose nozzle have 7 different water spray pattern is Jet,Shower,Flat,Cone,Soaker,Mist,Center.It can fulfill most of water need.As Shower can spray water gently,but flux is big.Cone can provide water pattern strong but water flux is small.people only twist the soft ring at the head to adjust the water pattern,it is so easy.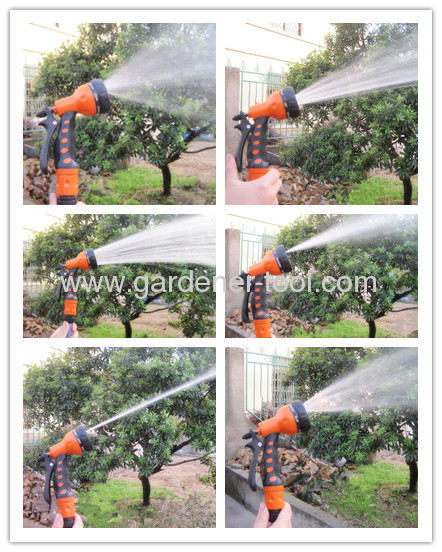 There is one stainless steel clip besides pull rod.It can pull the plastic trigger from the body,it can make the water spray continualy without hand presse the trigger alway,without fatigue.But we suggest release the clip when adjust the water spray pattern,it can protect the spray nozzle's head and longer product life.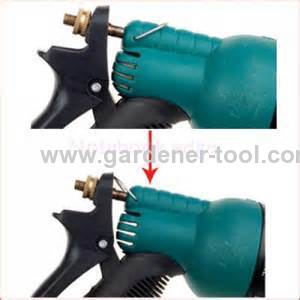 ~~~~~~~~~~~~~~~~~~~~~~~~~~~~~~~~~~~~~~~~~~~~~~~~~~~~~~~~~~~~~~~~~~~
Package:
Color box
Qty/Ctn:10pcs
Size(cm):83*52*21.5cm



Color Box Package


Various of Package type for option:


1, . Color Box.-----the cheapest package
After whole product assembled well,the coil garden coil hose is putted into color box with nozzle.When people use it,take the coil garden hose and nozzle out together,then joint the garden hose nozzle to brass female connector of coil garden hose,brass female connector joint to male water tap.
The color box is 3-layer 4 color box with laminating treatment at surface

2. Color Box With Window-----The economical package
After coil garden hose assemble well,it is putted into the color box with spray nozzle.When people want to use it,please take the coil garden hose out with nozzle,the brass male connector of coil garden hose joint spray nozzle,the brass female connector joint water tap.Turn on the water,it can use now.
The color box is 3-layer 4 color box with one PVC window.This pvc window is transparent,people can watch the coil hose and spray nozzle in the color box from the window.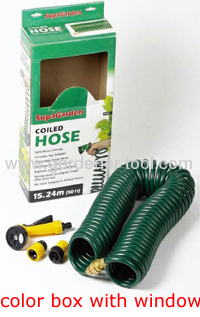 3, Double Blister With Insert Card.----Luxury package.
After coil hose assemble well with connector,put the coil garden hose and spray nozzle separate into double blister as per channel,then put the color card aside of coil garden hose,then seal the double blister.When want to use the hose,open the double blister package,take out the hose and nozzle,the brass female connector joint outdoor water tap,the brass male connector joint spray nozzle.Turn on the water,we can irrigate garden and plant now.
The double blister is transparent,people can watch the whole coil garden hose,spray nozzle and another clearly.
The double blister have a good tightness,it can keep the product in the package for tidy even if long time.
This package is popular in many exclusive shop



~~~~~~~~~~~~~~~~~~~~~~~~~~~~~~~~~~~~~~~~~~~~~~~~~~~~
Option:


MOQ is 1000pcs.If less,please check us firstly.

Delivery time is 35 days since order in general.If tight,please check us firstly then make a quickest time

Payment is TT or LC at sight.Another payment can be accepted if safe.

Customized color is welcome with pantone color code for hose,hose accessory and water nozzle

Customized length of hose is welcome

Customized color box is welcome with design in PDF,AI,CDR form.

Another customized package is welcome with design as gift box,display box and so on.

Customized specification of hose is welcome with detail data.