The NdFeB material has more advanced properties and multi-polar magnetization, which can make the same size motor generates larger torque or the same powder motor owns more ingenious volume.
So it meets the development demands of the " small, light and thin design" of the motor industry. with these properties, the NdFeB magnets are widely being used in modern advanced industry and high-technology products.
The NdFeb is being widely used in aviation, spaceflight, electron, mechanism, meter and medical treatment field, etc.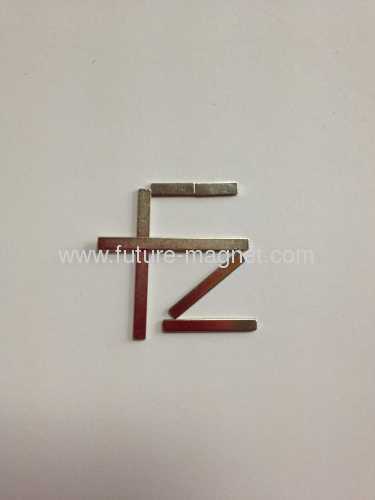 1. Materials:Neodymium-Iron-Boron;
2. Technology:Utilizes new Sintered NdFeB magnet techniques and equipment such as strip casting, HDDR technology;
3. Magnetic properties Of ndfeb magnet: High coercive force, the max operation temp is up to 200 degree centigrade or 380 curie temperature;
4. Grade: M,H,SH,UH,EH
5. Shapes and sizes: Various kinds or according to customers' request;
6. Coatings: Ni, Zn, gold, copper, epoxy, chemical, parylene and so on;
7. Applications of super strong magnet:Widely used in different applications, such as magnetic separator, sensors, motors, rotors, wind turbines/wind generators, loudspeakers, magnetic hooks, magnetic holder, filters automobiles and so on.