The NdFeB material has more advanced properties and multi-polar magnetization, which can make the same size motor generates larger torque or the same powder motor owns more ingenious volume.
So it meets the development demands of the " small, light and thin design" of the motor industry. with these properties, the NdFeB magnets are widely being used in modern advanced industry and high-technology products.
The NdFeb is being widely used in aviation, spaceflight, electron, mechanism, meter and medical treatment field, etc.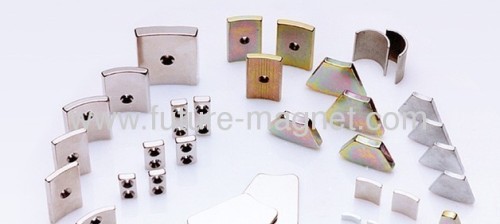 Our advantages:
1.We have actualized and completed an advanced process,"Automatic imbricate cast-Hydrogenation-Airflow pulverizing-Seal pressing-Continuous sintering"
2.We have lots of advanced machining lines with more than 3000 machines for operation. manufacturing micro-miniature and max-huge magnets is not the problem for us.
3.We have experienced engineering and workmanship
4.We have one-step service to save cost and increase quality assurance
5.Certifications
Magnets have replaced alinico and ferrite magnets in many of the myriad applications in modern technology where strong permanent magnets are required, because their greater strength allows the use of smaller, lighter magnets for a given application. Some examples are
Head Actuators for computer hard disks
Magnetic resonance imaging(MRI)
Magnetic guitar pickups
Loudspeakers and headphones
Magnetic bearing and couplings
Electric motors
Cordless tools
Lifting and compressor motors
Spindle and Stepper motors
Drive motors for hybrid and electric vehicles