The NdFeB material has more advanced properties and multi-polar magnetization, which can make the same size motor generates larger torque or the same powder motor owns more ingenious volume.
So it meets the development demands of the " small, light and thin design" of the motor industry. with these properties, the NdFeB magnets are widely being used in modern advanced industry and high-technology products.
The NdFeb is being widely used in aviation, spaceflight, electron, mechanism, meter and medical treatment field, etc.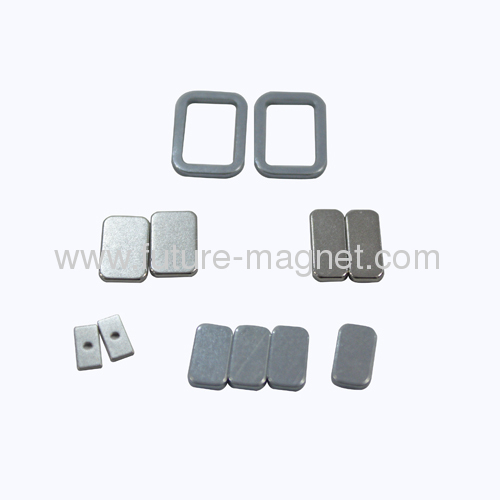 1.Name: Sintered NdFeB magnet ,we ensure high quality of our magnet.
2. Material:Sintered Neodymium-Iron-Boron.
3. Advanced techniques: Utilizes new Sintered NdFeB magnet techniques and equipment such as strip casting,HDDR technology in our factory to allow us to make high performance NdFeB over N52 possible.
4. Grade:N33-N52,N33M-N50M,N33H-N48H,N33SH-N45SH,N30UHOur standard NdFeB is rated to +80 deg C. We offer the whole grade range of Neodymium Iron Boron magnets, with Maximum Energy Product (BHmax) ratings from 30 MGOe to 53 MGOe (N33 to N52) and with a maximum operating temperature rating ranging from +60/+80 deg C to +220/+230 deg C .The complete standard corrosion resistance range of grades.Also we can suggest the grade according to where the magnets will be used according to our customer's request.
5. The Excellent strength value:the highest (BH)max reaches up to 53MGOe.
6. The Extremely Resistance to demagnetization with Hci,the intrinsic coercive force is over 30000Oe.Neodymium magnets lose -0.09~-0.13% of Br/°C and -0.05~~-0.08% of Hcj/°C
7. The moderate temperature stablity,their working stability is under 80 degree centigrade for low Hci for NdFeB magnet and above 200 degree centigrade for high Hci NdFeB magnet.
8.Effective Surface treatment to prevent corrosion,Nickel-Copper-Nickel (Ni-Cu-Ni) [standard], Epoxy, Zinc (Zn), Gold (Au), Silver (Ag), Tin (Sn), Titanium (Ti), Titanium Nitride (TiN), Parylene C, Everlube, Chrome, PTFE ("Teflon"; white, black, grey, silvery) , Ni-Cu-Ni plus Epoxy, Ni-Cu-Ni plus Rubber, Zn plus Rubber, Ni-Cu-Ni plus Parylene C, Ni-Cu-Ni plus PTFE, Tin (Sn) plus Parylene C, Zinc Chromate, Phosphate Passivation and Uncoated (i.e. bare – not recommended but is sometimes required by the customer). Other coatings may be possible - please let us know your requirements.
9.Various shapes and sizes or according to customers's request;Also we can design the size for our customer's request.