White Inflatable Lighting Party DecorationStar, TV show, event decoraion lighted ball, suitable for indoor and outdoor decoration. Made with Nylon as material, with LED lighted inside, the lighted with the remote control, there are around 16 colors for the light, it can change the color with the remote control.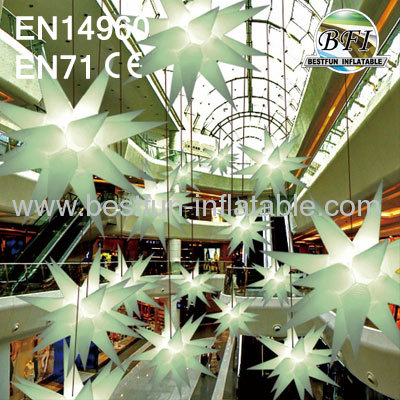 Details of Components


Cover

Size

Various sizes

Material

Nylon Taffeta

Colors

White, red, orange, yellow, green, blue, purple, alternate withwhite and gold strip; alternate with white and silver strip.

Features

1. Thin and good transmittance with high strength

2. Flame retardant and waterproof fabric

3. Logos or graphics are available to be printed on.

Advanced Splicing Technology

Applying new sewing technology to make the pinhole very small to resistant the air loss.

Base Plate

Accessories:

1. Lamp and Lamp shade

2. Reflector

3. Blower

Electrical

Type of Lamps

Halogen (can be dimmable), LED (DMX is available)

Power of Lamps

500W, 1000W, 1500W, 2000W of Halogen, 24W of LED

Supply Voltage

110V, 220V

Type of Plug

According to customer's requirements

This kind of the inflatable with light is special for doing advertisement oudoor or indoor, especial at night, the light of differnce color can catch people's eyes easily. You can always see them in the joyous occasions, such as the party, the show, promotional event.