GENERAL INFLATABLE DECORATION
Beautifulby day, magical at night, INFLATABLE DECORATION allowyou to create avariety of mesmerizing atmospheres for special events. INFLATABLE DECORATION are versatile and visually stunning yet easy toinstall. Andwhen illuminated, they softly glow in either white light oryour choiceof colors, adding much to your event's ambience.
Affordable andinnovative, these unique, 3-D lightweight, fabric inflatables instantlyfill a space and transform it into an elegant and festive environment. Awide variety of shapes are available including cones, stars, columns, spheres, flowers, walls and more. Inflatable tusk operate with a small, quiet fan which equires minimal power. Compact, lightweight, andreusable, INFLATABLE DECORATION offer a green solution for theenvironmentally conscious event planner. Made from durable, flameretardant fabric, INFLATABLE DECORATION are available for purchase.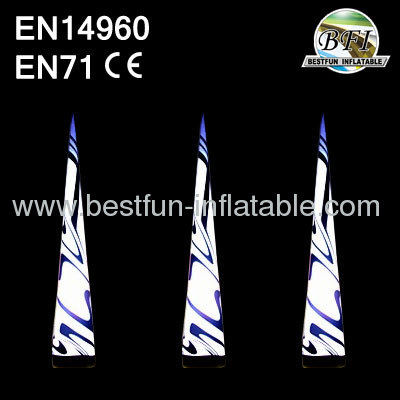 Name

Color Changeable Decoration Inflatable Cone For Christmas Decoration

Features

1. Air filled by internal blower

2. Strong & wind-resistant

3. Available in various sizes and colors

4. Digitally-printed full cover envelope, logo or graphic can be customized

5. Quick set up: 15 minutes

Use

1. Lighting

2. Decoration

3. Branding & Promotion

4. Parties

5. Shows

6. Special or Corporate events

7. Festival

Package

By carton

Shipping way

By air, sea, express

Components

Cover, Base Plate, Lamp, Blower