PACKING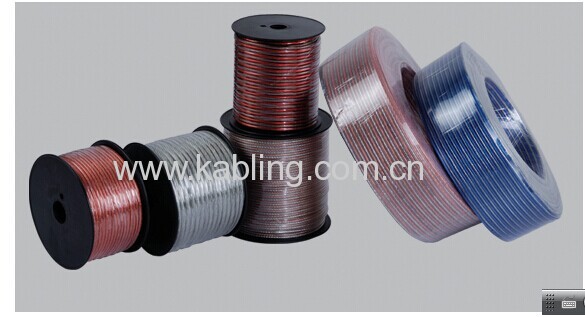 Transparent Speaker Cable
Speaker wire is used to make the electrical connection between loudspeakers and audio amplifiers.
Modern speaker wire consists of two or more electrical conductors individually insulated by plastic such as PVC, PE or
Teflon.
The two wires are electrically identical, but are marked to identify the correct audio signalpolarity.

Description:
1. Conductor: OFC copper ,Tin plated copper, CCA
2.Cable color:Multicolor and transparent
3. Any gauges and specifictions available
4. Multiple shapes ,combination available
5. OEM: we can produce according to customer's cable specification.
| | | |
| --- | --- | --- |
| AWG | Spec. | OD |
| 10 | 7X59/0.12mm X 2C | 5.5X11.0mm |
| 12 | 119/0.15mm X 2C | 4.5X9.0mm |
| 14 | 59/0.15mm X 2C | 3.5X7.0mm |
| 16 | 37/0.15mm X 2C | 3.0X6.0mm |
| 18 | 28/0.15mm X 2C | 2.5X5.0mm |
| 20 | 20/0.15mm X 2C | 2.2X4.4mm |
| 22 | 14/0.15mm X 2C | 2.0X4.0mm |
| 24 | 7/0.15mm X 2C | 1.8X3.6mm |