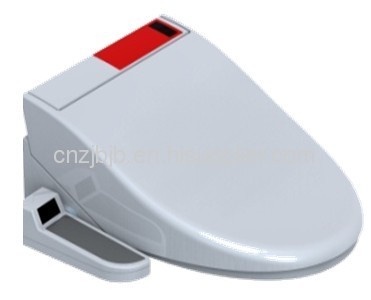 Specification:
Voltage/Frequency: AC220V/110V 50/60HZ
Rated Input Power: 850W
Length of Supply Cord: 1.8m
Safety Device:Leakage Protector(Operating Current=15mA)
Applicable Water Pressure: 0.05-0.75MPa
Certificate: CE, ROHS
Washing Spray
Washing manner:
Buttocks Washing: Three orifices strongly washing
Women special Washing: Six orifices softly washing
Water Tank Capacity: About 1.0 L
Water Flow Capacity: 0.6-1.1L/min
Heater Power: 500W
Water Temperature Adjustment:
Room Temperature to 34℃.37℃.40℃
Safety Device:
Leakage Protector, Overheat Protection, Anti-dry Protection
Warm Air Dry
Max Power of warm air drying: 300W
Air Temperature adjectives sequence: low. High. Normal temperature. Close
Safety Device: Double temperature protection:105℃ /150℃
Seat Warming
Seat Heater Power: 45W
Safe temperature adjustment: Room Temperature to 37℃
Open-Close Device: Soft Close Seat
Safety Device: Temperature protection:50℃
Feature:

1. Warm water washing,
Spraying water automatic after relieving yourself, dispensing with toilet paper, freely adjusting water pressure, the product has a good physical therapy for patients who suffer hemorrhoids or anus inflammation.
Special design for women washing
Expect the nozzle regular cleaning, the special nozzle is added for women cleaning to meet the special requirement during women's menstrual and pregnant period. Sanitary and convenient.
2. Slowly of the toilet cover
The damping system is designed by physical buffer theory to quietly open and shut the cover and seat.
3. Warm air drying
The buttock is dried by warm air which temperature can be freely selected in use, make you comfortable in relaxation.
4. Constant temperature toilet seat; Antibacterial toilet seat and nozzle
The temperature of toilet seat controlled by microcomputer can be changed freely in use. The toilet seat and nozzle are made of antibacterial material which can restrain germ breed and prevent to intersect infection.
5/6. Infrared induction remote device
New style hanging remote device. It adopts infrared induction to get the information. The configuration is more beautiful and the operation is more convenient