Specification:
Voltage/Frequency: AC220V/110V 50/60HZ
Rated Input Power: 850W
Length of Supply Cord: 1.8m
Safety Device:Leakage Protector(Operating Current=15mA)
Applicable Water Pressure: 0.05-0.75MPa
Certificate: CE, ROHS
Washing Spray
Washing manner:
Buttocks Washing: Three orifices strongly washing
Women special Washing: Six orifices softly washing
Water Tank Capacity: About 1.0 L
Water Flow Capacity: 0.6-1.1L/min
Heater Power: 500W
Water Temperature Adjustment:
Room Temperature to 34℃.37℃.40℃
Safety Device:
Leakage Protector, Overheat Protection, Anti-dry Protection
Warm Air Dry
Max Power of warm air drying: 300W
Air Temperature adjectives sequence: low. High. Normal temperature. Close
Safety Device: Double temperature protection:105℃ /150℃
Seat Warming
Seat Heater Power: 45W
Safe temperature adjustment: Room Temperature to 37℃
Open-Close Device: Soft Close Seat
Safety Device: Temperature protection:50℃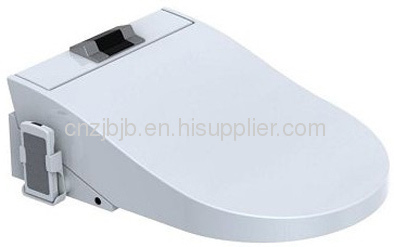 This high-performance material with the look and feel of ceramic is the ideal material. It is a highly break-proof Duroplast with an extremely hard surface that is resistant against scratches, cigarette burn marks, UV light and agreesive cleaning products and disinfectants. Even after years of use, Urea loses none of its shine.
Intelligent Design
Soft-close:
Just one fingertip touch, the lid close all by itself. Gently and silently, like the snow falling down in Christmas Eve.
Quick-release:
Click the button, lift off the lid, just two movements without using any tools put an end to annoying disassemble procedure.
Easy Clean:
Release the seat & cover, clean the hinges and pan with warm water and a mild detergent. Afterwards rub dry. Dont use any caustic or scouring agents. This design is for highest hygienic safety.
Color: White, Ivory, Green, Black, Red, Blue etc.
Quality Control:
1. 100,000 times life span of soft-close test
2. 30,000 times lift span of quick-release test