Description of
2 input 8 output zinc die casting satellite multiswitch

Model Name: SH28F.

work area: indoor use.
2 satellite IF and 8 output for receivers.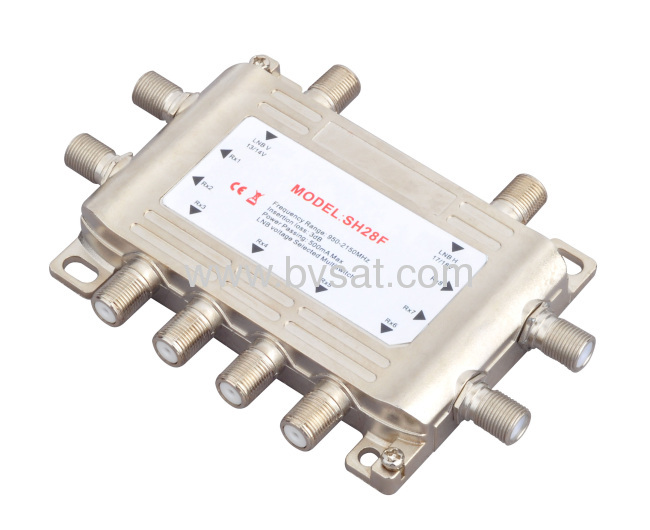 1. Material

Srews and Zinc die casting and PCBA.
2. Electrical

Rated voltage: 10V - 20V
Rated current: 0. 3A
Contact resistance: 75 Ohm.
Insertion loss: 3dB
Return Loss: 12dB.
3. Feature

2 satellite IF inputs for 8 satellite receiver.
2 satellite IF inputs selected by 13V\18V signal
Built-in amplifier, no need any power adapter supporting2 satellite IF inputs selected by 13V\18V signal.
Low insertion loss, high isolation and return loss.
SAT-IF-PATHs to the subscribers are active and supplied by the receiver.
Zinc die cast housing, nickel plated.
Design good for indoor usage.
4. Specification
Item
Typical
QC Limit
Remark
Frequency Range
SAT:950~2150MHz
Inputs
2 SAT
F connectors
Outputs
8 Receiver
F connectors
Insertion Loss
3dB
4dB
Return Loss
12dB
10dB
Isolation
REC-REC
35dB
30dB
H/V
30dB
25dB
Switching Voltage
V:10~14.5V H:15~20V
Dimensions (L,W,H)
128×86×16
mm

5. Work Theory

To connect two or more satellite receivers to one LNB i.e. to one dish antenna, it is necessary to use another LNB type and insert a device called a multi-switch between the LNB and the satellite receiver. LNB types suitable for use with multi-switches are marked with the symbol Q in Table 2. "Dual" and "Twin" LNBs are suitable for distributing low band channels, "Quatro Universal" must be used to distribute both low and high band channels.
All satellite switches are usable for distribution of both analog and digital signals. If not stated otherwise all switches are produced for indoor use. For satellite reception of other than the Ku band an LNB for another band can be used, but output intermediate frequency signals must be in a frequency range of 950-2300 MHz.
Operation and utilization of multi-switches will be best explained using the following descriptions of
Broadvision
products and examples of their application.
6. Package data

| | |
| --- | --- |
| Model | Quantity |
| SH24F | 100 PCS/ CTN |
| SH26F | 50 pcs/CTN |
| SH28F | 50 pcs/CTN |
Carton size: cm
1). 33*23*20
2). 33*23*20
3). 33*23*20