Curo

Input voltage(adapter)

AC 110~240 V 50/60 Hz

Light intensity (peakvalue)

1600 mw/cm2

Power output

8 W

Battery capacity

2000 mAh

Wave length

440-480 nm

Dimensions (W*L*H)

235*150*75 mm

Net weight

600 g
Numbers In Curo Curing light
1600mW/Cm2 light intensity
440-480 nm Wave length
134 C autoclavable Booster tip
5 time settings, 5s-10s-20s-30s-40s
540 times continuously using under full charge 10s working time mode.
36,000,000 times continuously using under 10s working time mode for LED lamp.
75 day's standby time.
Programs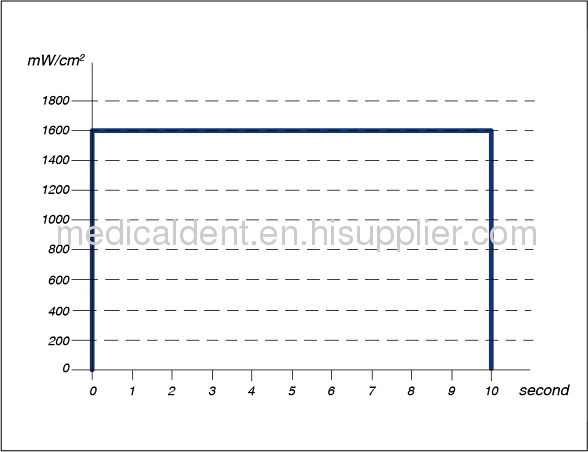 Full mode

Example:
10 seconds exposure at full power (Double beeps after working end)
Pluse mode
Example: 10 consecutive one second exposures at full power (Double beeps after working end)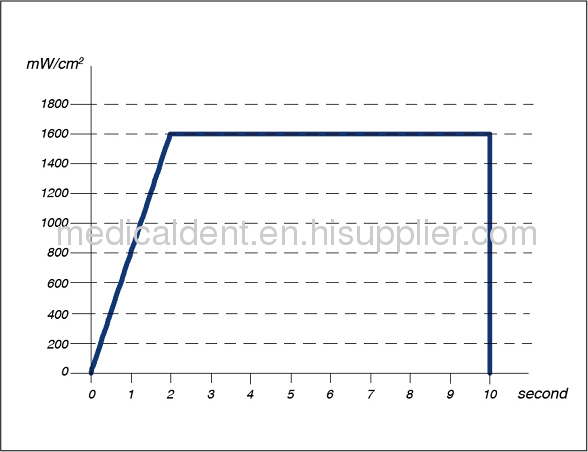 Ramping mode
Example: Progressive cycle lasting 10seconds (Double beeps after working end)
USER INSTRUCTIONS
A. Installation
1. Insert the probe into the front of the curing handpiece, ensure the probe is pushed all the way inside the handpiece. Remove the plastic protection from the tip of the probe.
2. Insert optical filter trough the front of the curing handpiece until it is firmly in place.
B. Operation
1. Selecting program - Press the mode set button in sequence to select programs. (1) F: Fast. (2) R: Ramp. (3)P: Pulse.The LED will display the corresponding character when the program is selected.
2. Selecting timer - Press the time set button to select the curing time. The default times are 5s - 10s- 20s- 30s- 40s.
3. Start curing - Press the on/off switch button to turn on /off the curing light. During the process of curing the display will show the remaining curing time, and come with a beep sound every 10s, 2 beep sounds when curing is complete.
4. Low Power Operation- When LED display panel starts to flash. Curing light must to be charged. If it happens during the operation, Please charge it immediately after the operation. If you are unable to charge to the battery before your next curing, please connect the adapter to keep working.
5. Sleep mode- Curing light will go into sleep mode if the light is not utilized for 60s. Press any button to deactivate the sleep mode.
C. Charge Instruction
P- Indicates connection with the power adapter.
CH- Indicate the battery is charging.
FC- Indicates the battery is fully charged.
Packing details
1peice
Package Dimensions (WxLxH) 235*150*75 mm
Gross weight 600g

Payment details
T/T, L/C & west union acceptable.

Shipment
Express: Under 10pcs samples testing, express recommended.e.g: TNT,DHL,UPS etc. Shipping days 3-5days.
Air shipment: Between 10pcs and 20pcs, Normal air shipment recommended. Shipping days 5-10days.
Sea shipment: More than 20pcs, Nor sea shipment recommended. Shipping days around 30days.