Four-row tapered Roller Bearings have characteristics similar to 2 double-row tapered roller bearings mounted side-by-side. The performance of this type of bearing is almost identical with double-row Tapered Roller Bearing, but the bearing can be subject to larger radial load than double-row Tapered Roller Bearing however its limit speed is a little lower.

Four-row tapered roller bearings are used successfully worldwide for rolling mill bearing arrangements where rolling speeds are slow to moderate. Because of their design they are able to take up those axial loads which occur in such applications in addition to radial loads and generally no separate thrust bearings are required in such arrangements.

Four-row tapered roller bearings, because of their design, must be installed as a complete bearing in the chocks. To enable quick roll changes to be made they must therefore have a loose fit on the roll necks. Loose fits have the disadvantage that the inner rings wander on their seatings under the prevailing load conditions causing wear to the seatings which normally have a lower hardness than the rings.
Capabilities range from 80mm(bore diameter) to 3200mm(outer diameter)
Accuracy: P0/P6/P5/P4
Four-row tapered Roller Bearings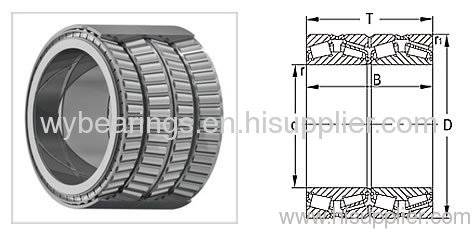 Four-row tapered Roller Bearings