Cable Cross section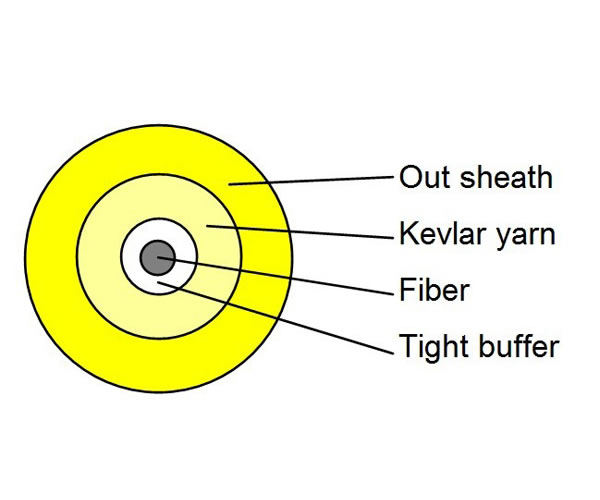 Application:
.Adopted to indoor distribution..
.As pigtail of communication equipment.
.Suitable for communication equipment served.
.Can be installed conveniently and perated simply.
Characteristics:
.Hight strength kevlar yarn member.
.High quality tight buffered or loose tube.
.Soft and easy to strip.
.Round construction.

Order information
Item
Specification
Description
KB-D215
Tow cores
Single mode
KB-D216
Tow cores
Multimode
Technical parameters
Jacket Color
Jacket Color Code
Color
Mode
Spec.
Size
Item
Fiber Code
yellow
Single
B1
9/125
1 2 3 4 5 6 7 8 9 10 11 12
orange
Multi
A1a,A1b
50/125,62.5/125
Single
Nature blue
Data information
Type of Optical cable
Attenuation @20℃(Db/km)
Typical bandwidth
@850nm
@1300nm
@1310nm
@1550nm
@850nm
@1300nm
B1
≤0.36
≤0.22
A1a
≤4.0
≤1.5
≥500
≥1000
A1b
≤4.0
≤1.5
≥200
≥600
Outer Diameter
Fiber Diameter
Min. Bending radius
Max.tensile strength
Max.crush pressure
Temperature
(mm )
(mm )
Dynamic/Static(mm)
Long/short term(N)
Long/short term(N/10cm)
Using temperature
2.0+/-0.2
10.9
20*D/10*D
100/60
-40℃~70℃
How to order:
1. Please inform us which models,quantity and shipment address for order.
2. We will make PI for you.
3. Please confirm the PI, and arrange the payment.
4. We arrange the production and shipment.