1-I
mage of Clean 3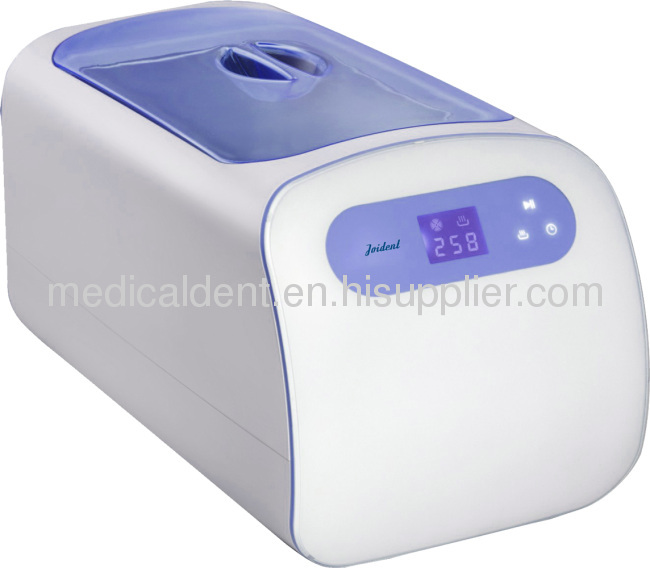 2- Details of Clean 3

Dimension: 3.2 liters.
Double transducer
With drainage pipe.
Touch-pad design.
Wide angle technology LED display.
Low noise design.
Continuous work time: 8hours.
New heating technology to improve cleaning efficiency.
Specialized plastic basket is designed for dental instruments.
.Unique touch-pad design, avoiding cross infection (in fashionable style).
Optional color for panel: white or blue.
3- Products data
| | |
| --- | --- |
| Voltage rating | AC 110V/220 V 50/60 Hz |
| Power input | 320 W |
| Ultrasonic frequency | 40 KHz |
| Digital time set | 180s-280s-380s-480s-90s |
| Drainage system | Drainage valve |
| Tank size(WxLxH) | 260X150x90 mm |
| Main material | SUS 304 / ABS 757 |
| Package Dimensions (WxLxH) | 420x206X196 mm |
| Gross weight | 4 Kg |

To prevent personal and/or property damage:
· Do operate the cleaner with a vented cover or no cover.
· Do use water-based solutions.
· Do not ever use alcohol, gasoline or flammable solutions. Doing so could cause a fire or explosion and will void your warranty. Use only water-based solutions.
· Do not ever use mineral acids. These could damage the tank.
· Do not touch the stainless steel tank or cleaning solution - they may be hot.
· Do not allow fluid temperature to exceed 70ºC (160ºF).
· Do not place your fingers or hands into the tank while the cleaner is operating. Doing so may cause discomfort and possible skin irritation. Avoid contact with solutions and provide adequate ventilation.
· Do not use solutions containing chlorine bleach.
4- Packing details
1peice
Package dimensions (WxLxH)420*206*196 mm
Gross weight 4 Kg

5- Payment details
T/T, L/C & west union acceptable.

6- Shipment
Express: Under 10pcs samples testing, express recommended.e.g: TNT,DHL,UPS etc. Shipping days 3-5days.
Air shipment: Between 10pcs and 20pcs, Normal air shipment recommended. Shipping days 5-10days.
Sea shipment: More than 20pcs, Nor sea shipment recommended. Shipping days around 30days.