Product Name: Plastic PET Storage Bottle PET kilner jar with stainless lock
Item No.: PSB080

Product Information:
Colours Available: Bottle in any color; Transparent, Semi-transparent and Solid.
Available w/Silk Screen printing; Hot-stamping; Soft touch coating; Shrink wrapping; Labeling.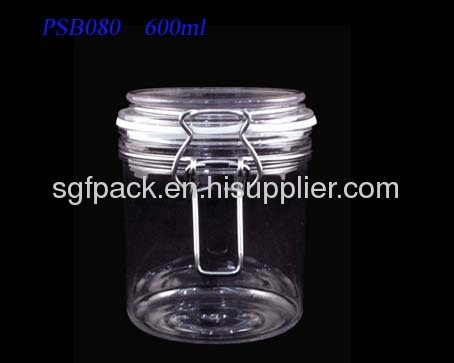 Container Capacity
Volume Nominal: 600 ml (Metric)
Volume Overflow: 605ml (Metric)

Neck Specification
Neck Size/Caliber: 93mm (Metric)

Container Dimensions
Height: 104 mm
Diameter : 90 mm

Container Specification:
Container Sub Type: Cap and Jar, PET .
Container Shape: Cylindrical
Container Material: Plastic-PET Bottle and cap, Silicone gasket, Stainless Lock.

Production process:
PET Jar and cap: Injection molding and Blow molding
Application:
Food Package, for Sugar, Salt, Candied fruit, Biscuit, Nuts and so on.
Cosmetic Package, for Bath salt, Hairdressing gel and so on.
Additional Information:
Decoration Notes: Bottle in any color; transparent, semi-transparent and solid.

Payment:
TT Bank transfer , Western Union, Credit Card, etc.
Package: Standard export carton; Support Pallet packaging.

Note:
1. Large stock for fast shipping.
2. Good quality with lower price.
3. Sample order & smaller quantity is ok.
4. Reliable quality assured.



If you want more detailed information of this product of related problems please contact with our online service. We will reply as soon as possible.