Modular Hospital Using Medical Bed Headwalls with Medical Gas Outlets and Nurse Calling & Intercom Panel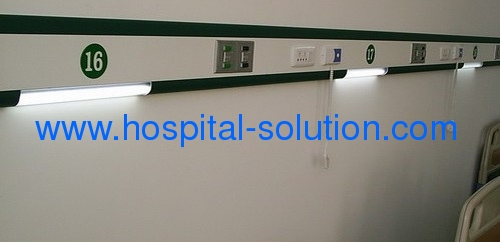 Medical Bed Head Units -- Energy Sources to suit Hospital Ward needs


The Medical Bed Head Unit is suitable for use with hospital beds that require access to a number of electrical, telecommunications and medical gas outlets. Bed Head Unit housing is made of extruded aluminum alloy and powder coated.
C&H Medical Bed Head Units confirm completely to ISO EN 11197 and IEC EN 60601/1 standards and provide users with the following benefits:
COMPLETE SAFETY
Single and double ducts are available, providing a separate duct for each enerty source (high voltage, low voltage, communications, medical gases), proventing any chance of interference between energy sources;
MULTIPURPOSE DESIGN
The shape of sockets for electrical and gas outlets is standardized and allows for installation of multiple types of outlets used in different countries, as well as different voltages;

SHAPED TO FIT THE USER

The user or disigner can choose the length of Bed Head Unit, select different color, and choose the number and positioning of separate outlets.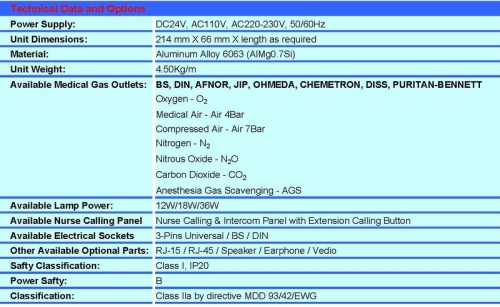 Specificates: