Original Toner Cartridge for HP LaserJet 1010/1012/1015/3015/3020/3030/3050/3052/3055

HP Q2612A

1) Page Yield: 2000pages
2) Product Details: Suitable for use in HP LaserJet 1010/1012/1015/3015/3020/3030/3050/3052/3055, Canon LBP2900/3000


| | |
| --- | --- |
| Product | HP Toner Cartridge |
| Model No | HP Q2612A |
| Brand Name: | HP |
| Color: | Black |
| Page Yield: | 2000pages |
| Item Weight: | 865G |
| OEM service: | Yes |
| Warranty: | One year |
| Mold: | Dimai |
| OPC: | Hengjiu |
| Toner: | LG |
| MR: | LYH |
| PCR: | Benma |
Advantage and service:
All our products are 100% pre-tested prior to leaving the factory

We guarantee for 100% replacement or refund if any detective goods by our fault

Prompt delivery: Courier, Airway, Seaway for your choice.

Small order acceptable

Any inquiry must be replied within 24 hours


Quality Guaranteed:
1. More than 5 years OEM service.
2. We have professional quality control system and R&D department to strictly manufacture each product.
3. All of our products are pre-tested before leaving factory
4. All our goods are100% testing on line. And we use the best raw materials

Factory Direct Sale:
We are specialized in exporting:
A) New and remanufactured toner cartridges for aser printers.
B) Spare parts for the toner cartridges. New plastic parts.
C) LaserJet printer parts like toner chips, toner powder, OPC drums,

After-sale service:
One replace one in the warranty. We will offer you the best service. We believe we can do what you want.

With many years experiences in exporting and good relationship with customers, we also supply other items for the customers. Cooperate with us you will get much benefit. We will supply the excellent goods to you

HP Q2612A toner cartridge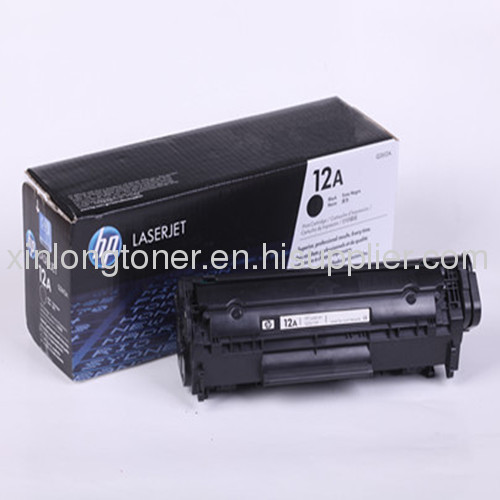 1>.high quality& reasonable price
2>.can be refill toner again
3>.100%tested before shipment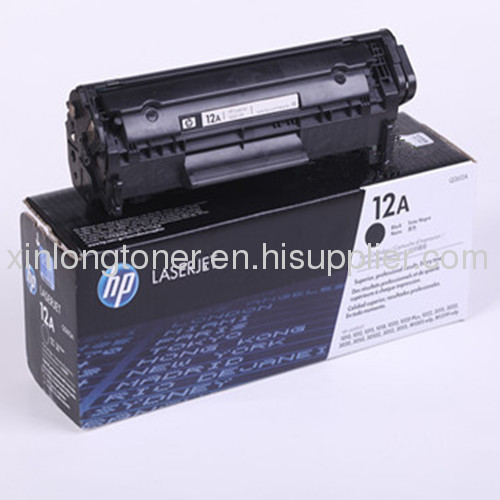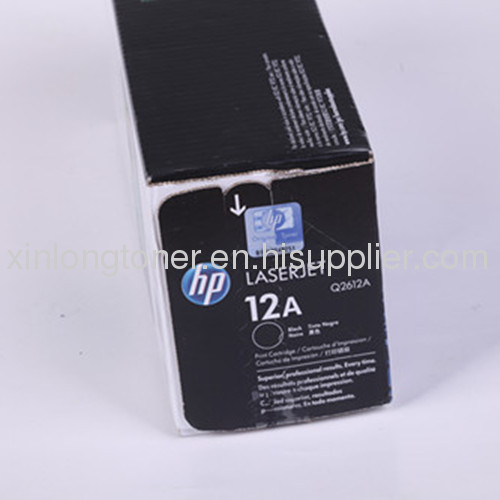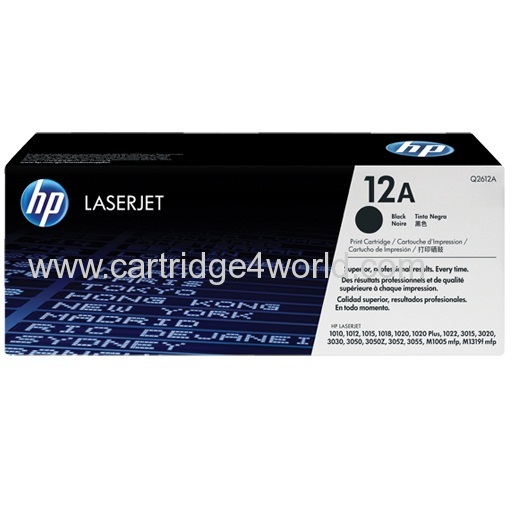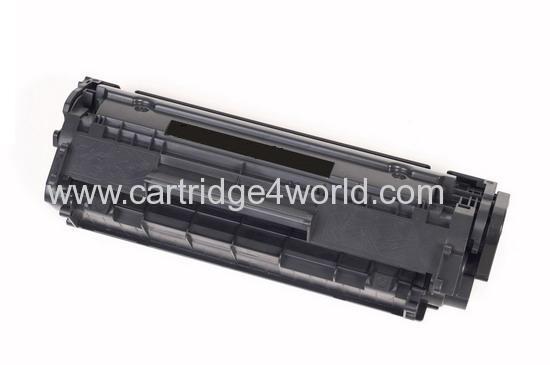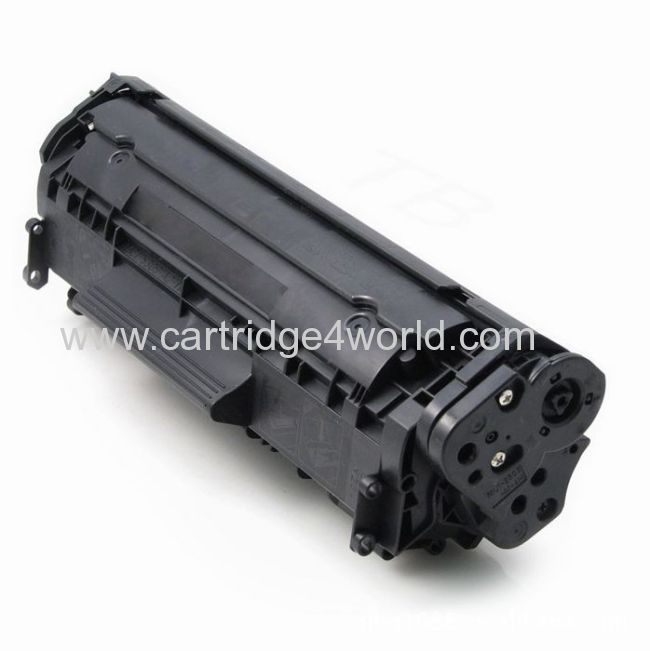 Welcome to our company

Dear:
Thank you for your patronage of our company today.
This product if you are still hesitant, perhaps, I should introduce you to, our team is how it works.
Every day, our team is selling the product and we will carry four stringent quality checks: raw material inspection, production GB / QB quality control, product storage inspection, as well as aa package AQL inspection.
Efforts to ensure that every product you get, do not have any flaws.
We put most of the energy is invested in product development and quality control, as we believe, a good product is good advertising.

Our corporate culture

1)Vision: win and common prosperity, create, share
2)Business philosophy: to provide customers with the most cost-effective service
3)Management approach: institutionalization, fine
4)Management slogan: Run, then run
5)Service concept: a service, a customer, there I am
6)Values: with clients for win-win and common prosperity, and with employees to create, then share
7)Talent: integrity, self-confidence, self-motivated, responsible

We promise to do:

(1) Price: produce and market all by ourself, we ensure the reasonable prices for you!
(2) Product quality: Test before export, a hundred percent quality assured!
(3) We service: excellent pre-sales, after-sales service.
(4) Our aim: just do better, so you can rest assured to buy our products. Hope we can cooperate happy!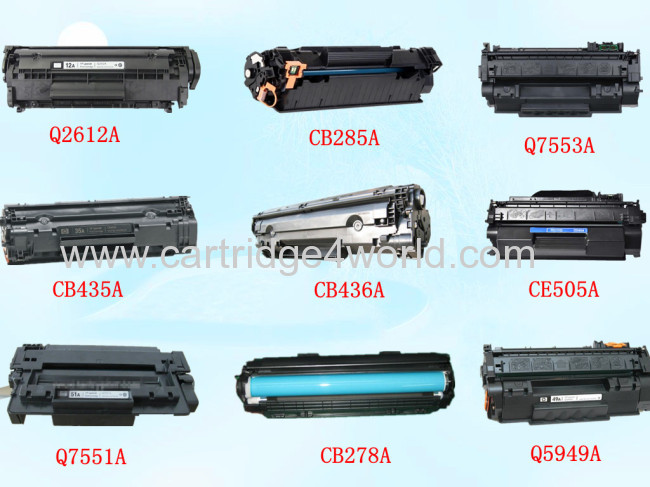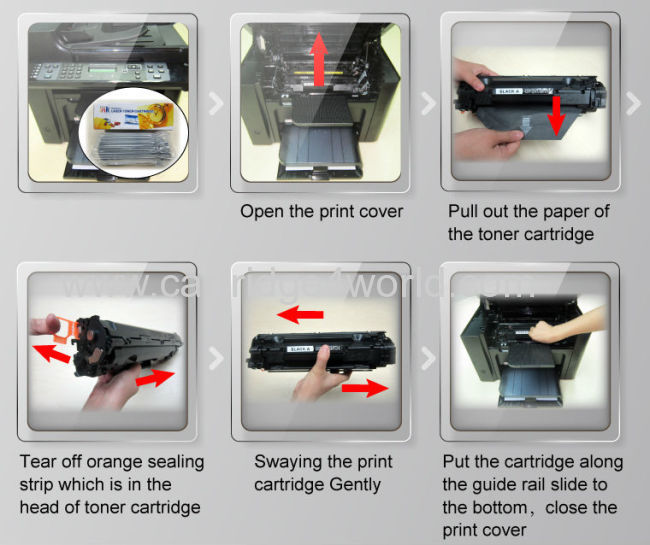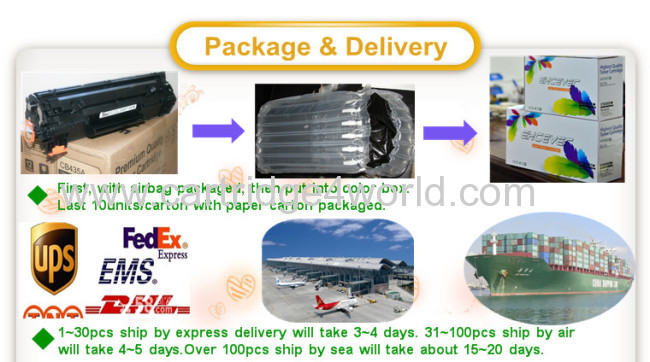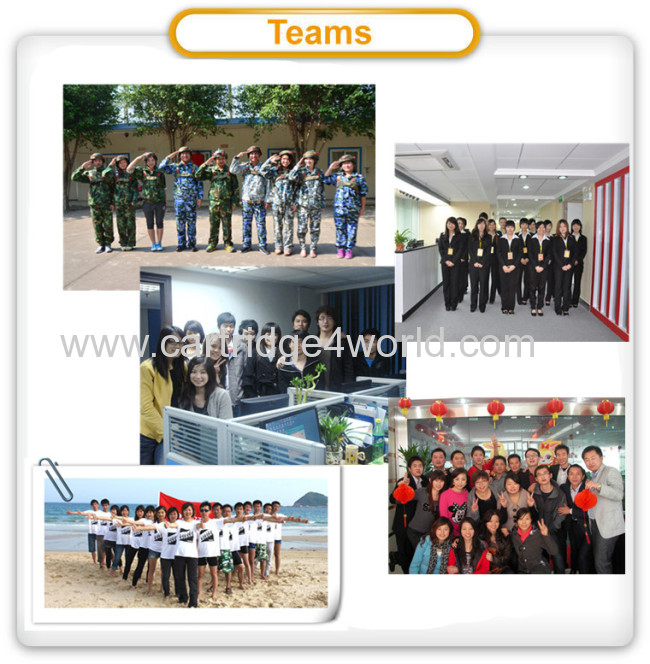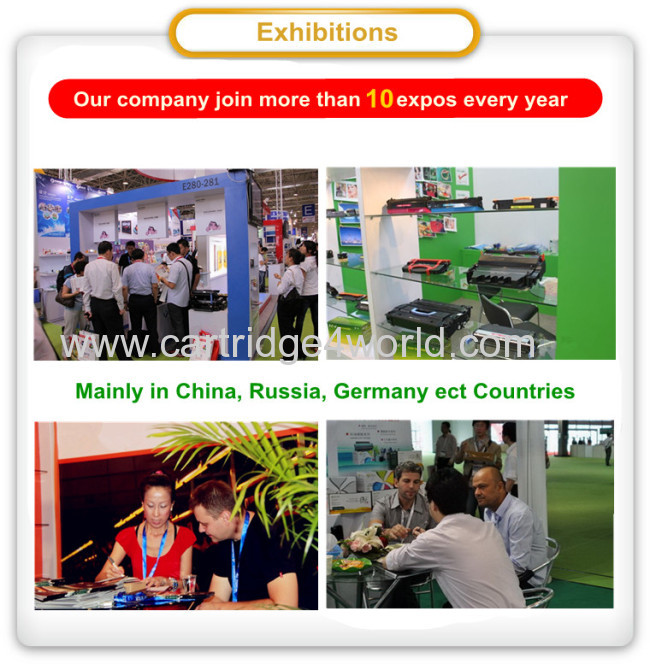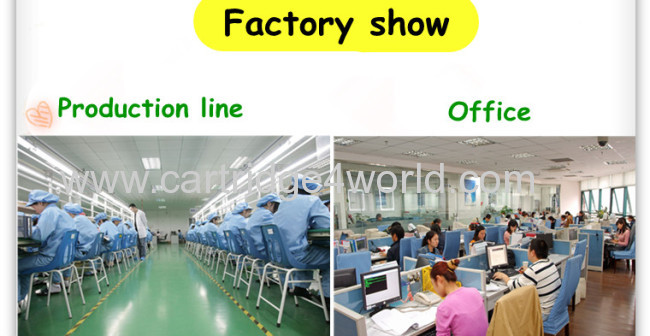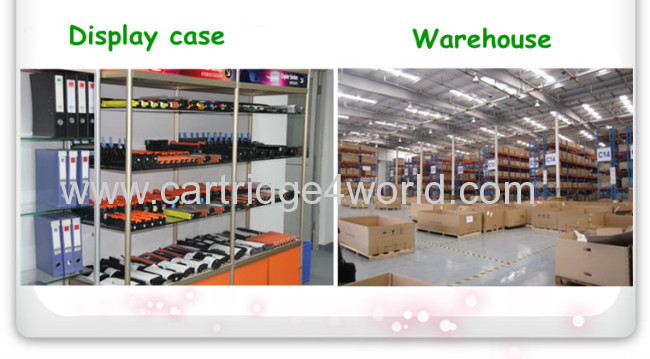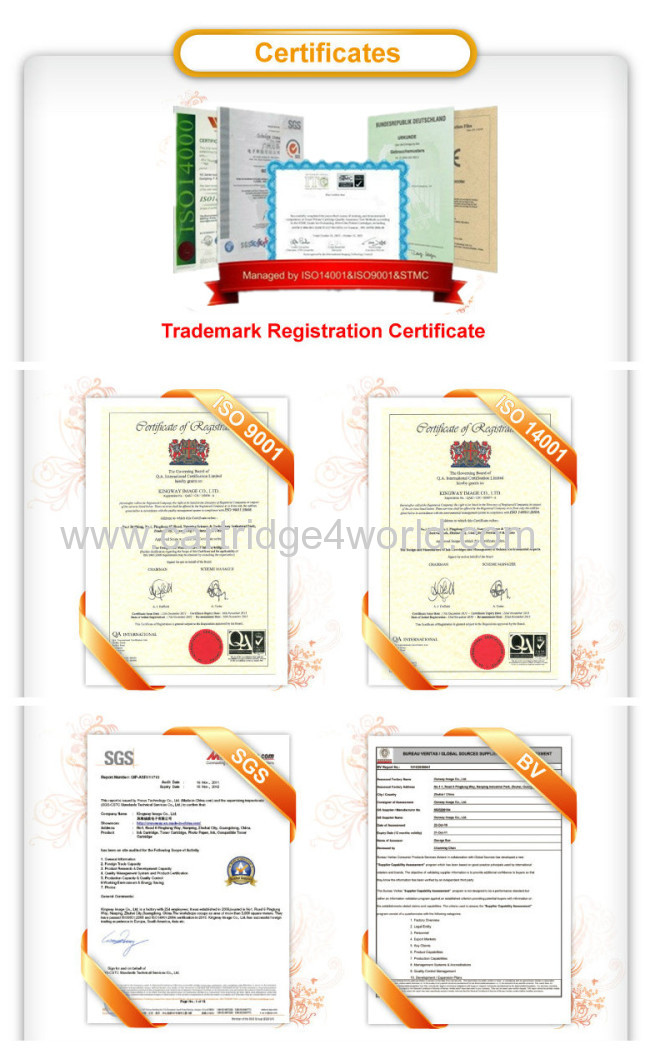 Precautions


1), To avoid use and storage in the high humidity high temperature cold environment. Do not tear the seals before use the toner cartridge , otherwise the toner will soon in wet condition and become agglomeration, these will affect the print quality and sometimes will cause the print color shallow. If the cartridge stores in too hot or too cold place too long, we must return to room temperature for a short time before use.

2),Do avoid exposure the toner cartridge to bright light for a long time. Do not tear the plastic bags when the toner cartridges are not using, especially do not open the drum on the drum light barrier. If let continuous exposure into the bright light for more than ten minutes, the drum will be scrapped.

3), When replacing the toner cartridge, it is the best if you use the vacuum cleaner to clean the place where the toner cartridge is put, use a soft cloth to clean the accumulation of paper dust and toner, the exposed electrical contact pads is available to use cotton swab dipped in alcohol to wipe., to maintain good electrical contact.

4), Do not attempt to turn the OPC drum core by hand, OPC drum core must pay attention to the direction of rotation, if rotating in the wrong direction, parts can be damaged, and it will causing the print or print smudges powder leakage.

5), When select the paper, do not use print paper if it wrinkles, uneven cut or too thick, tough, rough paper, etc., it may affect the print quality and abrasion drum.

6), The new toner cartridge should be shaken 6-8 times by horizontally, loosen the toner and make them distribution. And then pull out the sealing strip, otherwise, the toner may be unevenly.

7), Ensure cartridge away from the monitor, hard drive, or any other magnetic material.