Item No.,:BB-5107


Plastic Universal tap connector For Family Water Faucet As Kitchen Water Tap.

The universal tap connector is designed to fit a wide variety of tap in the kitchen or bathroom.


Can work with round or square water tap.

This universal tap connector can joint practically any kitchen or garden tap to your water hose pipe.

It can be used with another famous brand garden hose or garden hose accessory.

Simply slot over your kitchen tap and tighten.

high impact resistant water washer in the connector make sure the product leak free.

Twist the cap to adjust the tighten or loosen



~~~~~~~~~~~~~~~~~~~~~~~~~~~~~~~~~~~~~~~~~~~~~~~~~~~~~~~~~~~~~~~~~~
How To Use:

Sometimes when we prepare all the accessory to clear house,but find no outdoor garden water tap with male thread tap to joint the hose,there is only kitchen or bathrroom water tap in the house.What can we do?

This is universal tap connector is designed specially to solve this problem.The universal tap connector is good to joint water tap in the kitchen or bathroom,no matter the water tap is round or square water tap.

Put the water tap into the universal tap connector,aim the outlet of water tap to the outlet of connector,then twist the cap to adjust the tighten or loosen for fixing the water tap when you feel it is ok.Then joint the hose to the male conenctor of universal tap connector by quick connector on the hose.Turn on the water,we can begin work to clear house.

Another do not worry about the leak between water tap and universal tap connector.There is one hole on the universal tap connector just match to water tap, and rubber water washer is high quality to make the hole can take the water tap tightly,and leak free.

~~~~~~~~~~~~~~~~~~~~~~~~~~~~~~~~~~~~~~~~~~~~~~~~~~~~~~~~~~~~~~```

Package

Blister Card
Qty/Ctn:100pcs
Size(cm):69*39*44cm
N.W./G.W.:14/16kgs



Blister on the card package is a economical package.Product will be packaged by blister machine between color card and transparent blister,it have high tightness to keep the product clear when sale even if stock so long time.

The color card is 600g 4 color card,it can print most of image in the artwork for colorful.In general,the color card is neutral color card without any chinese word,company information and logo.If customer want to print customized company name,company information and logo on the color card,please send us artwork before mass production.

There is one hole at the top of color card.so the product be can hanged on the shelf for show and sell in.no worry the product will be drip because of the color card hardness enough.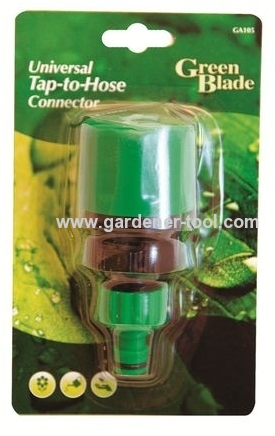 Various package for option.

In Bluk Package for Universal Tap Connector is the cheap package.For package,product is putted into master carton for seal without anything after assemble.It can save the cost of package.Another it can save the volume of package, so this package can save the transfer cost too.People can pay the same money,but take more product.

When customer receive it,this universal tap connector will be putted into one color display box to show and sell,it can take people's attract easy because of beautiful display box and touch product directly,and sell better.

This package have been accepted by supermarket.In the supermarket,this package not only can show the product directly for better sale,also it is ideal to save cost,specially for promotional sale.