Full automatic double working stations Wheel hub Motor Winding Machine
This wheel motor winding machine is designed for the electric bike.It does the winding under the control of servo motor. Its HMI could diagnose the fault,count and save the output etc. Also,The wheel hub motor winding machine could be set up automatic wire feeding, multi-diameter wire winding, automatic indexing,automatic slot-skipping, winding speed etc.The motor coil winding machine is of easy operation and highly efficiency.

Technical parameter:

| | |
| --- | --- |
| Wire diameter | 0.2~1.0mm |
| Stator diameter | 150~300mm |
| Winding number | 1~9 pcs |
| Stator height | 15~35mm |
| Power supply | 220V/ 50/60HZ 1.5KW |
| Weight | 400kg |
| Air source pressure | 0.5~0.7MPa |
| Dimension | 1300*800*1500mm |
| Weight | 3000Kgs |
Information needed for wheel motor r Coil Winding Machine inquiry
It will be better if customer could send us detailed drawing including below information.
1. Stator drawing
2. Stator winding drawing
3. Winding distribution drawing
4. Other technical requirement
If possible, it will be better if customer can send us samples.
Operator step
1. Power on the machine
2. Thread wire this this motor
3. Set the winding parameter in the touch screen
4. Press the "start" button.
5. Machine will do winding process automatically
6. After finishing the winding, machine will stop
7. Take out the wire from the tooling.
This wheel motor winding machine has two working stations.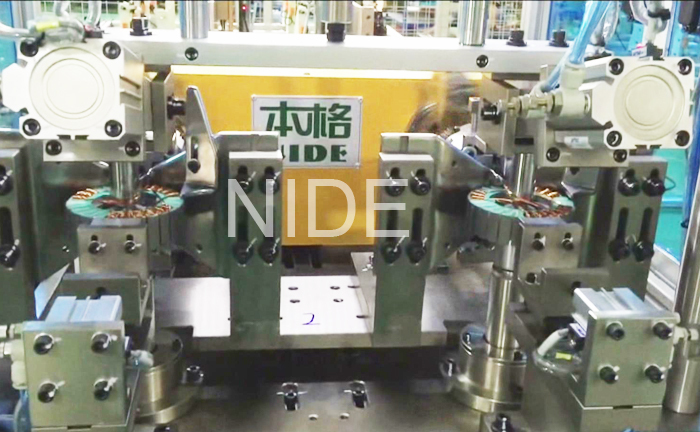 Finished stator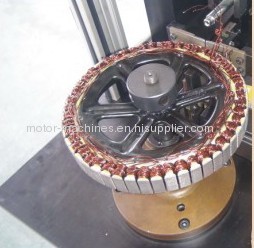 Finished stator